Best Circular Saw for Electricians
You should always look for the right power tools for your upcoming DIY projects. For example, getting the best corded circular saws will allow you to make quick and accurate cuts. Currently, many popular brands compete by creating such hardware. Hence, you can find a lightweight saw with modern safety features.
These types of cordless tools often feature a 15 amp motor and proper blade size. Plus, some of them come with extras like a laser beam and blade guards. As a result, their reduced weight can aid you in completing all sorts of woodworking projects.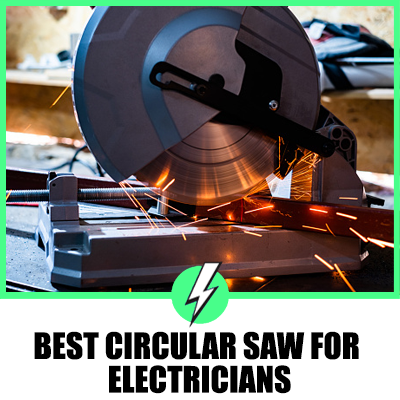 Circular saws are a popular choice for straight cuts. At the same time, many cordless saws include features such as a safety lock system, plastic housings, LED lights, and adjustable bases. However, finding the best circular saw requires a keen eye. Nowadays, there are many handheld power tools equipped with a spinning blade, but that doesn't make them equal. Also, not all of them come with proper eye and ear protection.
Hence, aside from the cutting power of the blade spins, the best circular saws include safety features as well. As such, electricians can use them for ripping plywood or timber framing. Similarly, most circular saws are great for cutting dadoes and slots.
Choosing the correct corded models or battery-powered circular saws will require some know-how. Whether you're a home handyman looking for mitre saws or a pro preferring lightweight circular power tools, here are the five products you should consider.
The five best circular saws for electricians
Makita is one of the leaders in the global market for hand-held power tools. This brand has a wide range of distinct portable circular saw types. For our top pick, we settled on Makita's HS7601J/2 Saw for its durability and dependability. It's not only a dependable and strong saw but also quite versatile due to its cut depth of 66 mm. On that same note, it also comes with a 1,200 Watt motor. Hence, enough power to spin the 12-tooth blade at a staggering 5,200 rpm.
It's packaged in a Makita MAKPAC box, making it convenient to store, and you can use it on any common material. Plus, adjusting it is a simple process, and we believe it's the best corded circular saw you can get right now.
The HS7601J is a more reasonably priced model among the Makita circular saws. However, this doesn't imply that it comes with a subpar build. Also, it utilizes more than enough bevel capacity, meaning you will easily make a habit of using it.
This circular saw ticks all the boxes in terms of performance, design, and affordability. Hence, it's our recommended pick for adding to any electrician's kit.
---
Bosch is another brand popular across the globe. Bosch GKS 190 is a strong and flexible saw with a durable 1400w motor- the greatest motor power in its category. As such, it offers rapid and accurate bevel cuts. Also, it provides comparably higher cutting power than most similar products. Plus, its small frame and modern design allow for easier handling and user comfort. In short, its simplicity of use and cutting flexibility make it excellent for light to heavy-duty tasks. It's a reliable circular saw for all woodworking projects.
The GKS 190 saw has a sturdy guard and a robust aluminium base. Due to such a build, it allows for accurate cuts without compromising on durability.
Perhaps the greatest selling point is this tool's cutting depth. Unlike most circular saws, this power tool boasts a no-load velocity of 5500rpm.
Similarly, it features a motor with a high bevel cut angle, complementing the correct blade size. Hence, you can even achieve cuts 50mm deep at 45 degrees. Also, you can shoot for 70mm cuts at an angle of 90 degrees.
The spindle lock feature is a spring-loaded blade clamping mechanism that, as the name suggests, locks the machine's rotatable spindle in place. In that manner, it enables you to quickly change the blade without any risks. In other words, this advanced design allows you to secure and free a blade from the spindle with a single push of the spring-loaded hook.
---
Makita DHS680Z has a superior-grade design and remarkable features and functionalities that are only accessible on high-grade saws. The saw has a robust, top-tier motor system with adequate power and dizzying speeds to support moderate and heavy-duty applications.
This model's automatic speed control system is one of its most impressive features, combined with the advanced rate drive system. This function enables the integrated chip in the saw to adapt the cutting velocity depending on the material and depth needed.
You may use the Makita DHS680Z at a maximum no-load speed to make accurate and fine cuts on the surface. The rapid speed paired with the powerful 680W motor allows for a great utility. So, you can get this gadget for both heftier and lightweight DIY projects. On this note, the tool also comes with a speed control feature for easier handling.
The engine of this Makita cordless circular saw does not employ carbon brushes, as is the case with all other Makita cordless circular saws. The primary benefit of this tech is its enhanced torque to weight proportion. As a result, even visibly larger brushed motors can't quite match this motor's output.
This system's drive mechanism has very little friction since the carbon brushes are not there. Hence, the frictional heat loss is minimal, adding to its efficacy. Therefore, there would be no need for vigilant maintenance regarding the machine's life.
---
Ryobi continues to extend its 18v cordless tool range with a fair customer-centric policy. As such, these tools have one of the lowest prices in this category. The 7 1/4-inch circular saw is one of the newest additions to this line of products.
The package includes the tool, a user guide, and the blade. Installing the blade is straightforward and takes no more than a few minutes. Due to the total item weight of 6.6 pounds, you'll need 11 ounces of battery weight to operate this device.
The saw has a 3800 RPM motor and an electronic brake for quick stops, which is necessary for any saw. On that note, this circular saw utilizes Ryobi's Brushless motor that's both durable and powerful.
A full-size 7-1/4-inch carbide-tipped blade with an ultra-thin kerf and 24 teeth is included for quick, clean cuts. In that manner, this model improves significantly upon the standard stock blades of the past ones. Similarly, the blade's size enables maximal cut capacity and variation, unlike the formerly more typical 6.5-inch electric circular saws. This saw has a maximum cutting depth of 2.4375 inches at a 90-degree angle.
Changing the depth of the cut is as easy as pulling a lever on the saw's rear and adjusting the base plate on a premarked scale. In that way, you can quickly adjust it according to the material you're working with. Then, the lever will simply relock and remain secure.
This circular saw line is a variety of the 18v collection of tools, each using the same type of batteries. So, if you own one of the older models, you can upgrade to the latest while saving some bucks.
---
The DeWalt 65mm circular saw comes with a strong, high-performance 1350w motor, packing enough power to rip through various building materials. Also, the extra-long cable of three meters gives you plenty of space when working with long, narrow materials.
This model is compact at just under 4kg, suggesting that mobility will not be a problem, and if you work all day long, it shouldn't wear you out. As such, electricians can easily get around while carrying the tool.
This saw's blade's reduced resistance and quick rotational speed of 5500 rpm make cutting thicker materials easier. In other words, it's a frequency that's proven ideal in practice; hence it is the most common aspect of such power tools.
As previously stated, a 45-degree bevel is possible at 48 degrees, and a 65-degree angle is possible at 90 degrees. It also incorporates a lock-off system, spindle lock, and electronic brake.
---
Choosing a Circular Saw: What to Look For
When combing the net for an upgrade to your kit, ensure to focus on power and durability. Also, the asking price is an essential factor too. Here's a list of other criteria you should keep in mind:
The Engine's Placement
Various circular saws such as worm-drive and sidewinder models are available. Worm-drive saws are a great choice if you are a righty since the engine is behind the blade. The engine for a sidewinder saw (also known as a direct drive saw) is immediately next to the blade. As a result, the engine side of the saw will be the heavier one. However, this is both a pro and a con. For example, while it may give the user greater control, it also might throw the saw off balance.
Wireless or Corded
Circular saws come in two variations regarding the source of power. Corded electric saws are more powerful and better for cutting through heavy, solid wood, but their usage will often depend on the length of the wire. Alternatively, you can opt for a cordless circular saw. However, those come with another issue in the form of limited battery life. Nevertheless, you have the benefit of operating anyplace without the need for a plug socket.
On a related note, the saw blade's speed is directly proportional to watts consumption. Hence, a greater wattage means more power. Most corded circular saws are geared to handling bulky work and can cut through woods, porcelains, bricks, metals, and other common materials. Also, corded versions tend to be heavier than their counterparts due to the extra weight of their larger capacity batteries. That being said, some modern cordless models have the same or even heavier batteries as the corded ones for extra utility.
Lithium-ion batteries are more common in cordless circular saws as battery technology improves. These provide longer working hours and lower charge times, often as quick as 60 minutes. So, since they run on batteries, such models are lighter and easier to carry in hand.
However, the fact remains that most lightweight models are fit only for small to medium-sized projects. Nowadays, companies have come up with designs that make up durability-wise, albeit for a premium cost. Also, you can opt to include an extra battery, even if you just use your tool for an hour or two at a time.
Choosing the Right Blade
Blades for circular cutting saws may be changed according to the saw's intended purpose. Generally, a blade with around 24 teeth will be suitable for most operations when dealing with woods.
The blade might splinter or leave extremely rough edges when cutting plywood or cross-cutting it. So, an even finer blade with more teeth may be helpful in certain situations. Some blades are especially suited for cutting hardwood or cross sawing; they feature numerous tiny teeth – up to 140. For this aspect, thoroughly inspect the saw's user instructions. Afterward, move slowly, one step before the next, to properly and safely change the blade.
Budget
In general, higher-quality power tools come at a suitable asking price. There are tons of cheap gadgets, but they often feature substandard blades that drastically hinder their efficacy. Circular saws range in price from $100 for an entry-level corded model suitable for DIY tasks to $700 or more for an ultra-high performance corded model.
In the long run, the cordless circular saws will cost you more since most basic equipment costs over $100 without batteries and chargers. With a battery and charger, expect to spend more before you can begin working. Additionally, more advanced circular saws come with extra features that add up to the total sum. Hence, ensure to summarize the full list of features and compare them to your needs before making a purchase.
One of the finest methods to get the most out of your circular saw is to get the correct blade for the job. So, consider what type of material you're most likely to come across.
Design
From a distance, every circular saw model shares a similar outline. Yet, that is not representative of their performance levels. Their weight and handling are also parts of the same argument. Hence, ensure to try out each power tool that's caught your eye yourself. Do the handles offer a good grip? Is the saw well adjusted and allows for straight cutting? Also, how would one proceed to maintain the tool or change its parts?
Therefore, the design is closely related to the tool's everyday usability. The inner parts' layout is of decisive importance regarding how easy it'd be to get used to operating it daily.
Frequently Asked Questions (FAQ)
How do I change the circular saw bla
If you need to replace a dull or damaged blade, disconnect the corded or cordless saw first. In short, before replacing the blade, ensure the saw is without a power source. Then, remove the plastic guard and push the lock to reveal the blade. With the saw's wrench, release the blade's axle. At this point, you may wipe dust and first off of the top and bottom guards.
Next, inspect the replacement blade. To properly install it, look for the arrows pointing to the direction you should follow. Some blades' lettering may face towards you or the other way. After setting up the new blade, tighten the arbour nut. Lastly, before using the saw, replace the blade guard and unlock the blade.
What sort of circular saw blades should I install?
One of the best methods to get the most out of your circular saw is to get the correct blade for each type of material. Most blades are titanium carbide tipped, and the larger the teeth, the finer the cut it creates.
However, there's no one choice covering all purposes. Instead, you'll need various multi-material blades for cutting through lumber, metal, plastic, etc.
What accessories might I use for my circular saw?
A speed square might come in helpful if cutting angles. Use this simple metal triangle as a guide to make precise 90° or 45° cuts every time you work with it. Also, you'll have an advantage if you have a nice set of clamps available.
How safe is it to use a circular saw without additional safety gear?
You should wear the right safety equipment while utilizing power tools. Wearing proper ear and eye protection when using a circular saw, even with basic safety measures such as the blade guard, is still a good idea. Plus, get a dust mask whenever working with wood.
How do you use a circular saw to make a straight cut?
If you want to easily achieve a straight cut, start by drawing the cut line with a pen. When doing so, use a measuring tape or another straightedge to ensure it is straight. After creating the line, proceed to carefully cut along the pencil mark with your circular saw power tool.
You should use some guidance if you're new to operating a power saw or don't want to risk going off course. For example, before cutting, attach or screw a rail or metal frame to the board to serve as a guide. Similarly, you can clamp a guide board and align it with the intended cut line before cutting using the attached board as a guide rail. In this manner, you're less likely to overstep the boundary.
Can circular saws cut through concrete?
Yes, circular saws can cut through concrete. However, such tasks require some preparation. In general, you should use a diamond blade on your circular saw to cut through concrete. The same principle goes when working with masonry or pavers.
Wrap Up
According to what we have seen, the distinctions between these models are, for the most part, rather subtle. However, these seemingly little variances may significantly impact the quality of your work as well as the materials that the saw is capable of cutting through.
Spend some time thinking about how these aspects, most notably the power capacity, affect you. Take note that you need to stick to a budget, so you don't end up splurging on unnecessary features like battery charge indicators and laser pointers. They are nifty little additions, but having them is not essential.
The Makita HS7601J Circular Saw is the model that we recommend the most since not only does it provide exceptional performance, but it also ranks among the most cost-effective products. In short, it is the best circular saw for electricians available today.
Aside from the nb. 1, the other models on our list also offer a very satisfactory performance within a fair price range. Hence, keep their strong points in mind during your elimination process.