Can You Retrain To Be An Electrician At The Age Of 30?
Have you realised your career may not deliver what you expected and are considering retraining to become an electrician? Is it possible to retrain and become an electrician at the age of 30?
Becoming an electrician is not an easy process at whatever age you start the training. If you meet the educational criteria, 30 is a good age to start retraining for a new career as an electrician. You will need to attend college and get on-the-job experience.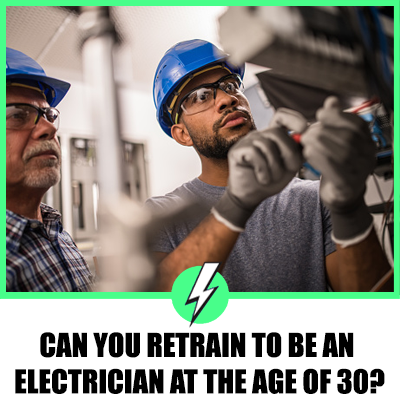 How long does it take to retrain as an electrician in the UK?
Depending on your commitment to retraining and becoming fully qualified, it will take you 4 years of part-time college and working with experienced electricians to gain the experience needed.
Changing your career is a big decision, and at 30, you may already have some major financial commitments to contend with, so the decision will not be easy.
However, if you are committed to being an electrician, then 4 years is not a lot of time to be able to spend the rest of your working life doing a job you enjoy.
How do you train to become an electrician?
There are two main routes to becoming an electrician at the age of 30. You can approach companies to become a mature apprentice or find a course you can commit to at your local technical college.
Some companies claim they can fast-track you to become an electrician, but the truth is you will need to attain an NVQ level 2 and have site experience before anyone entertains employing you.
This process takes 3 years, and then you will need to take your NVQ 3 if you wish to work unsupervised.
Electrician accreditations are long and confusing, so you will need to decide early on your end goal.
Most electricians start training to become a domestic installer, including fitting sockets rewiring domestic houses, and installing consumer units.
If your end goal is to be a domestic electrician and eventually have your own business, many courses will train you in theory while arranging your onsite training.
What qualifications will you need to become a domestic electrician?
Assuming you are not taking the apprenticeship route, you will need to follow the diploma and NVQ route, which is as good as any apprenticeship in theoretical training.
The course to be completed are:
City & Guilds 2365 Level 2 Diploma in electrical installations (building and structures)
City & Guilds 2365 Level 3 Diploma in electrical installations ( buildings and structures)
City & Guilds 2357 Level 3 NVQ Diploma in electrotechnical technology
The course will take you 3 to 4 years to complete. Now, here's the tricky part. If you are not working for an electrical contractor, how will you get hands-on onsite experience?
To pass the NVQ 3 Diploma, you will need to build a portfolio of completed jobs outlined in the syllabus.
How do you get the required experience to become an electrician?
Again assuming you are not an apprentice, you can offer to work for electricians for free. They get free labour, but you get priceless knowledge and experience onsite.
If you are well into your NVQ 3 diploma, you can apply to large companies for a job. You should have sufficient knowledge by now and have some hands-on experience to make you a worthwhile candidate for further training.
How easy is it when you are qualified as an electrician?
There is a constant learning curve as an electrician. You will need certain accreditation from bodies to give you credibility to find work independently, such as NICEIC accreditation.
The accreditation is in modules and is mainly all evidence-based projects culminating in accreditation. Then you will need to continue your personal development to stay current with laws and equipment used in the electrical industry.
What to expect when you become a self-employed electrician
You will need to kit yourself out with all the tools an electrician requires during his daily activities, which undoubtedly will be an expensive prospect, but you can't work without the tools!
At some point, you will need to stop working from the boot of your car and purchase a van which will then be liveried with your details.
Even as a qualified electrician, you will have to be supervised if you do not have the correct ticket to work onsite, you will need to get a JIB gold card.
How do I become a JIB Approved electrician?
You will need to comply and demonstrate you have core skills and are competent at your job.
You will need a Diploma level 3 for electrotechnical installations
A minimum of two years of onsite experience with a portfolio of signed off projects completed by you
An ECS electrical engineers card to prove you have worked in a supporting position to a senior electrician
Electrical engineering skill sets that can be demonstrated
A full understanding of industry requirements and 18th edition wiring certified
Now you can work onsite unsupervised and earn some extra cash.
Do I need to be qualified to work as an electrician?
If you wish to work legally, then yes, you do need to be qualified. The problem arises when you find unqualified electricians undercutting your hourly rate as they are just earning a small wage to survive.
Unqualified electricians are running the gauntlet in terms of if something goes wrong and someone is hurt, and they can be looking at criminal prosecution and prison time if the incident is serious.
Is becoming an electrician at 30 worth it?
Yes, the potential to earn a good salary when qualified is real, and electricians are always in demand, so you will never be short of work.
Initially, it may seem like a long and hard path to become qualified, but the tech part is only two days per week, and it's good fun working onsite and meeting new people regularly.