What Countries Need Electricians?
Can a domestic installer find an electrician's job overseas? Why is there a shortage of electricians in the UK?
Depending on the country, there is always a high demand for electricians. Common places include: Australia, Canada, New Zealand, South Africa, USA. Being from the UK, we have a higher training standard and get the qualifications transferred over, so you can work overseas.
Are electricians in demand worldwide?
Yes, the skills shortage will rise after stagnating for 2 years with the covid pandemic. In most developed countries globally, there is a definite shortage of skilled electricians who are competent to carry out the work needed.
It is important to differentiate between electricians and where the shortages fall in a global industry.
Is there a shortage of domestic installers who have trained for 3 weeks and now think they are electricians? The answer is no.
Across the world, no shortage of domestic installers who can do the very basics of electrical work.
However, for the competent trained electrician who has completed a recognised apprenticeship, there is a need for more of these tradespeople.
Does America need electricians?
Yes, there is always a need for electricians in the US, and the earnings can be high if you have the right qualifications, but you need to be a linesman or industrial electrician to be in demand.
A domestic installer from the UK would find it hard to find a job in the US and be deported after serving a jail sentence for pretending to be an electrician.
Are there countries that have similar electrical training to the UK?
Yes, some countries adopt the same principles of training as the Uk, such as:
Australia
Canada
New Zealand
South Africa
USA
However, for the skilled electrician, electricity is electricity and works the same wherever you are located. The difference comes with the type of equipment being used and how the UK applies its earth to the way the US does.
Of course, wiring colours would be different in most countries.
Can I work internationally as an electrician?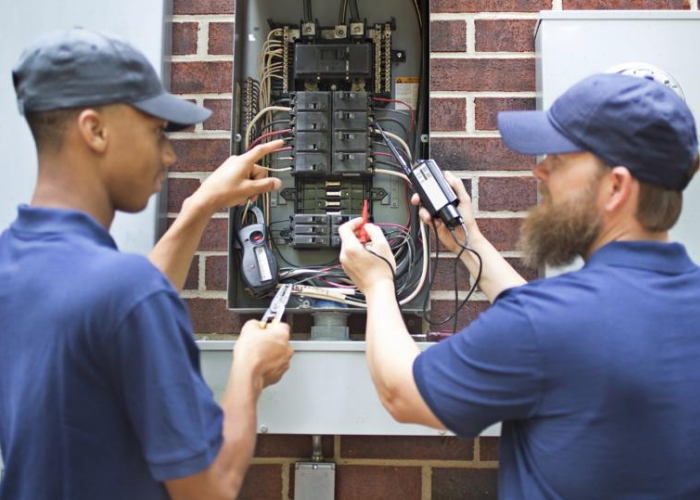 Yes, there will be a transition period where a qualified electrician will need additional training in practices that are different from being in the UK.
An electrician working internationally will be installing electrical equipment, wiring and other electrical infrastructure projects.
Typically the work is on a contract basis.
Qualified electricians from the UK are in demand because their training is first class, and they are recognised to be diligent and safe in their work practices.
Can a UK electrician work in Canada?
Yes, Canada is a vast country, and its infrastructure expands rapidly as more immigrants enter the country yearly.
With Canada being part of the commonwealth, a UK resident could apply for express entry into the country. It would be reasonable to think that the process could be fast if your qualifications are in order and are required.
Canadians enjoy a good standard of living, and as an electrician, your life could be very different and rewarding as a Canadian electrician.
How much does an electrician earn in Canada?
The average is $62,365, which equates to £38,328 per year, and the more experienced earn $72,922 per year, which equates to £44,816, which is slightly lower than the UK average.
The cost of living is comparable, housing is cheaper, but food and day to day living expenses are on a par in both countries.
Can a UK electrician work in Australia?
Yes, but are Aussie cousins are very picky about who they let into the country on a residency basis, so you will need to jump through some hoops.
You will need to be assessed as part of the immigration process. This way, the Australian immigration can verify your qualifications are current and genuine.
It goes without saying nothing is free, so here is a list of the costs associated with verifying your skills and qualifications, currency is AUD.
| | | |
| --- | --- | --- |
| Type | Fees | Processing Times |
| Combined assessment (qualification AND skilled employment) | $600 | 3 weeks |
| Skilled Employment – standard | $250 | 2-3 weeks |
| Skilled Employment – express | $350 | 1-2 weeks |
| Reviews (qualification OR skilled employment) | $170 | 1-2 weeks |
| Review (combined qualification AND skilled employment) | $340 | 1-2 weeks |
How much does an electrician earn in Australia?
The salary is attractive considering that life down under is not as expensive as in the UK, and you get good weather and the lifestyle that goes with it when you get downtime.
The average salary for a spark down under at entry-level is $73,000, £41,000 per year. An experienced electrician is $127,750, which is £71,500 per year, depending on the day's exchange rates.
Nevertheless, the salary is comparable to the UK with lower living costs, so it's a win-win situation.
Is there a shortage of electricians in England?
Yes. It may seem like doom gloom and that the flood gates are about to open for being charged the earth by electricians in the UK, but all is not as it seems.
According to a recent analysis, there is a requirement of 15,000 over the next 5 years. But where will these electricians be working?
Does the industry need 3000 new electricians each year? Do the power generators and DNO need that many electricians over the coming years? Domestic installers are not qualified electricians so take them out of the equation.
There is a discrepancy in how the vacant job numbers around the country have been extrapolated to come up with an arbitrary figure.
What is being done to address the shortage of electricians in the UK?
Recruit quality candidates from schools and colleges. The electrician trade has long been thought of as a male profession, but the original perception can change quickly by attracting more females into the position.
Being an electrician is ideal for a female with long-term security, a high salary, and the prospect of self-employment if desired.