Blog
Electrical Inspection and Testing
In 2019, 59.2% of house fires in the UK were caused by appliances and faulty electrical wirings. The majority of 50.6% of that was from cooking appliances, while the remaining 8.6% is from other electrical devices. This number is amplified in an industrial setting, where the necessity and usage of electrical applications are more significant than in households.
This is why a routine comprehensive electrical inspection should be conducted to your home's electrical systems and its installation. The purpose of an electrical inspection is to ensure that your home electrical system is still working up to standard. It can potentially intercept faulty wirings that may lead to house fires and accidents.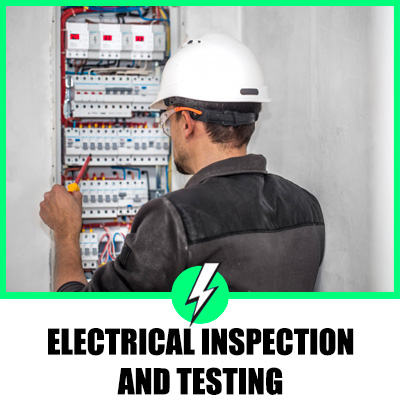 This article discusses the logistics of a home electrical inspection and testing, from its cost, course and certification.
What's an Electrical Inspection?
An electrical inspection is an in-depth, comprehensive inspection of an establishment's electrical systems and installation. The purpose of an electrical inspection is to regularly check the condition and functionality of the establishment's electrical systems, and to immediately be alerted about certain damages that should be repaired or replaced immediately.
A smaller, more shallow electrical inspection is usually enclosed within a home inspection when you are buying a house.
However, an in-depth electrical inspection will specifically focus on the home's electrical systems and will look at things that a home inspection will not cover, electrical-wise.
National Inspection for Electrical Installation Contracting
The National Inspection for Electrical Installation and Contracting (NIEIC) is the UK-standard of providing certifications to electricians, plumbers, and other electrical service work that needs certifications.
If you wish to become a certified electrical inspector, you would have to go through the NIEIC standard and pass their assessments to obtain your certification.
Electrical Inspection and Testing Course
While there is no set career path for someone who wants to become an electrical inspector, it is a preliminary requirement first to have an extensive knowledge on electricity and electronics. The following courses can be taken for an electrical inspector career:
Electrical Construction Technology
Electrical Engineering
Electrical Power Systems
Introduction to Electronics
Introduction to Electrical Wiring Systems
After earning the qualifications to any of the following, you can complete an apprenticeship and then apply for certification from the NIEIC.
Electrical Inspection Certification
To obtain a certification or qualification, the UK-standard is to go through the certification process of the NIEIC.
However, you can also apply for certifications or qualifications from a reputable online platform. The accreditation of qualification will usually be delivered to your doorstep from the online platforms.
How to do an Infrared Inspection
An Infrared electrical inspection utilises an infrared sensor to detect unusual emission of heat, from electrical systems or apparatus. The abnormal amount of heat that is produced will usually indicate any of the following:
Faulty wirings
Defective fuses
Overloaded or imbalanced circuits
Loose connections
Damaged breakers
Other dangerous electrical problems
The usage of thermography (heat detection) as a way of preventing electrical accidents and maintaining a fully-functional and safe electrical system is hugely beneficial as it shows an in-depth look to things that are easily overlooked by a visual inspection.
An infrared electrical inspection makes use of an infrared sensor that is set at a frequency that matches the electrical system's operations, age, load and importance.
Cost of Home Electrical Inspection
The best method to approach the costs of a home electrical inspection is to find a local licensed electrical inspector and closely work with him for the costs of an electrical inspection of your home.
However, in general, an electrical inspector will give you a fixed quote that is based on the amount of work he estimates from seeing the size of your home.
As with electricians, some electrical inspectors will charge by the hour, and usually charge more for the first hour or have a call-out fee. This is to cover the travel costs and the travelling time that incurs.
Electrical Inspection FAQs:
The following are the most frequently asked questions relating to electrical inspection and testing.
How long does an electrical inspection take?
The amount of time it takes for an electrical inspection to be completed is dependent on the area to be inspected. However, as a general estimate, an electrical inspection usually takes up to 2 hours.
Is an electrical inspection a legal requirement?
An electrical inspection is part of a landlord's legal obligations to his/her tenants who are renting out a property.
Can I refuse an electrical inspection?
If you are a landlord, you are legally required to conduct an electrical inspection on any of the properties that you have under your name. This is to ensure the safety of your tenants and intercept dangerous wiring systems that may lead to more significant problems. Therefore, as a landlord, you cannot refuse an electrical inspection as it is your legal obligation.
Do new homes require an electrical inspection report?
It is not required to conduct an electrical inspection and prepare an electrical inspection report for new homes. However, it is always advisable for new homeowners to conduct a home inspection (that includes an electrical inspection, of course) once they have fully settled into the house and can finally conduct a more in-depth home inspection.
Does my mortgage company require an electrical inspection or testing?
Home inspections that include electrical inspections are meant to determine the condition of a home or property for sale. The purpose of a home inspection is to check and verify if a property's price is worth the condition of its appliances, electrical systems, and other home amenities.
Home inspections are undoubtedly helpful to the buyer during the buying process. However, a mortgage company does not typically require a home inspection (and an electrical inspection, for that matter) before buying a house.
This article discussed everything you need to know about electrical inspection and testing—from its cost, logistics and the frequently asked questions.
If you have any questions or want to know more about a specific topic let us know.