Best Wall Chaser for Electricians
Wall chasers are ideal if you have tough construction jobs. They help you cut through different types of masonry and concrete without too much effort. You will find a wall chaser handy for wall chasing as an electrician. This is especially true if you cut and carve out raceways for cables, wires, and pipes for water and gas. However, which is the best wall chaser for an electrician?
As a high-quality saw, the best wall chasers tend to be expensive. The reason is understandable; it makes carving, cutting, and chiselling much easier. You will find that most wall chasers are quite pricey, but we found a few that may fit in your budget without compromising on quality.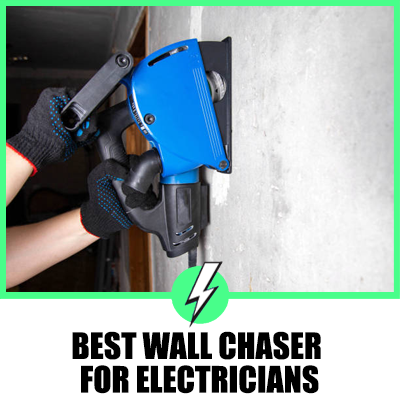 Review of Top Wall Chasers for Electricians
Preview
Our Pick For
Top-rated for Dust Extraction
Ideal for Preventing Motor Burn-out
Preview
Our Pick For
Top-rated for Dust Extraction
Preview
Einhell 4350730 TC-MA Wall Chaser
Sale
This wall chaser is top-rated because of its adaptability to every occasion. You can use it to cut a wall groove in masonry or concrete without compromising your safety. It has 9,000 revolutions per minute (RPM) and a power of 1,320 watts. The tool is powerful enough to continue running for a long time without giving out.
Its cutting depth is flexible, allowing you to adjust from 8 mm to 30 mm. In other words, it offers a wide range of depth to apply to different circumstances. You do not have to get another tool for the same purpose if you have the Einhell wall chaser. The automatic grooving wall tank makes it easier.
One advantage the tool has is dust extraction. It leaves a clean work area and prevents dust from blinding when working. Once you connect the suction device, the tool can significantly reduce the amount of dust in a work area.
It offers room to change the cutting discs with ease. The wall chaser has a spindle lock designed with practicality in mind. Knowing that an electrician at work may not have the luxury of spending too long changing the discs, the lock does a quick job of changing them.
Furthermore, the tool comes with two high-quality diamond-cutting discs to ensure a clean and thorough job. The inclusion of the discs enables you to start working immediately after you get the tool instead of waiting to buy additional discs. In addition, there is overload protection and soft-start to ensure you safely operate the power tool.
Pros
Dust extractor included
Large handle for a safe and firm grip
Disc change made easy with spindle lock
Adaptable to different cutting jobs
Includes pulling cut and soft-start for safety
Wide range of cutting depth
Cons
Heavy tool
Does not allow for fluid working
---
Huanyu Wall Chaser 4000W
Huanyu Wall Chaser 4000W | Wall Groove Cutting Machine 7500RPM | Brick Concrete Slotting Machine Dust-Free with Water Pump | 39-40mm Notchering 5 pcs of 125mm Diameter Blades
[Upgraded Dust-Free Grooving]—— upgradation in water pump. A latest advanced pump was adopted according to customer demands by Huanyu R & D department, all-around specification upgraded.
[Blade Configuration]——5 blades are included in the package. Max 39mm slotting depth, 2-40mm adjustable width . Please refer to the instruction manual to correct installation. PS: exclusive blades are available for extra sale.
[Application]——strongly recommended for cutting red brick and concrete walls with plenty of tests proved. For other materials, please confirm us before ordering.
[Power]——Max 4000W power and 7500RPM. Working power differs from different working condition for assorted materials. This model is highly suggested by professional technicians with good price and high quality as well as excellent aftersale support.
[Safety]——with overload protection, safe and easy to operate. Equipped with a 360° rotatable handle and an auxiliary handle, the machine can be operated more lightly.
If you want optimum power output and a significant number of revolutions per minute, the Huanyu wall chaser may be ideal. This tool has a maximum power output of 4000 watts, which is powerful enough to use on many hard materials like concrete walls. It also produces 7,500 RPM. Therefore, with the combination of power and RPM, the tool is ideal for cutting marble, rebar, granite, red brick, concrete, and cement.
Despite all the power it packs, the groove cutting machine is safe. It comes with overload protection and is light to handle, with a 360-degree rotatable handle and an auxiliary one. Since it is easy to handle, it provides better safety than a heavy tool.
The brand includes five blades to suit different cutting occasions. The maximum slotting depth is 39 mm, with a maximum slot width of 40 mm. Knowing the correct usage for each blade is crucial, so consult the user manual whenever you need to make a change. Alternatively, reach the brand's support team for instructions on using the blades.
One of the best parts of using the wall chaser is that it comes with a water pump for dust reduction. You must connect the pipe and pump before connecting it to the tool. While working, water comes out of the pipe at intervals to reduce the dust in the work area.
Pros
Clear blade installation instructions
Automatic water output for dust reduction
Multiple blades with different sizes included in the package
Light to handle and safe for use
4,000 watts power output with 7,500 rpm
Cons
No waterproof housing to act as an electric leakage protector
May not effectively remove dust with water pump
---
Makita SG1251J/2 240V 125mm Wall Chaser
The Makita wall chaser has a 0 mm to 30 mm cutting depth, and this range makes the tool's cutting depth adjustable to fit any material and occasion. The bore diameter is 22.23 mm, and the blade diameter is 125 mm.
While the tool does not come with a dedicated dust extractor, you can hook it up to any extraction system, and it works well. Therefore, you will find little or no dust in the work area. Also, the tool can move with its strength; it does not need you to apply pressure or force to get it to work.
The super joint system (SJS) works with overload protection to ensure a comfortable and smooth delivery. The super joint system reduces the start-up shock you feel with these power tools and protects the tool from accidental motor burn-out or when an unexpected jam occurs in the wheel.
Furthermore, it has an electronic current limiter and a soft-start with constant speed control. This feature automatically applies power to the tool's motor to enable it to maintain its speed even when under load. Additionally, the groove cutting machine has an engine with a 1,400-watt output and a 10,000 rpm, making it a powerful tool.
Pros
Nine-stage adjustable cutting depth and width
Includes a super joint system (SJS)
Comes with a 1,400-watt motor and 10,000 rpm
Has an electronic current limiter and a soft-start feature
Lightweight and easy to handle
Cons
No dedicated dust extractor
May be too small for some jobs
---
Huanyu Electric Wall Chaser
Huanyu Electric Wall Chaser 5200W Groove Cutting Machine 10500RPM 0 to 45/72mm Dust Proof with Water Box Capable of Rebar Granite Concrete Red Brick 90° Seamless
【POWERFUL AND EFFECTIVE】: this chaser can works with 5200W power and 10500RPM high speed.
【APPLICATION】: it is popular with professional water and electricity installation works, decoration and repair company, maintenance team and self-built housing renovation, applied to ceramic tie, concrete, red brick, hollow brick, rebar and so on.
【ADJUSTABLE SLOTTING】: depth: 0~45MM; width: 0~72MM, it works easily for Angle Slotting.
【USEFUL ACCESSORIES】: water tank and water fender, more convenient to store and operate.
【DUST PROOF BY WATER】: the package includes a large water tank used as a dust proof part, it is also a wonder storage case for the machine; it as well contains a tool kit for necessary use.
A powerful tool, this model of wall chaser from Huanyu has 10,500 revolutions per minute (RPM). It also has a motor with a 5,200-watt output. It has an adjustable slotting feature that makes angle slotting easier. If you are an electrician with electrical installation jobs, this wall chaser is handy and reliable for quick results. The same applies if you have water installation works too.
The powerful tool is ideal for cutting concrete, rebar, ceramic tie, hollow brick, red brick, and many other materials. It comes in handy if you have to fix or decorate a space. The same is true if you have to redecorate because it involves cutting and shaping. Therefore, maintenance and repair teams choose it for its output.
In addition, the groove cutting machine comes with helpful accessories: a water fender and a water tank. The water tank acts as a dustproof for when you are chasing a wall. It reduces the amount of dust in the work area by spraying water at timed intervals. You are good to go once you connect the pump and water hose.
Moreover, the water tank is an ideal space for storing the wall chaser when it is not in use. There is also a tool kit that may come in handy for repairs. The tank reduces the space needed to put the entire tool system away.
Pros
Practical tool with high speed and power
Depth adjustment range between 0 mm to 45 mm and width adjustment range between 0 mm and 72 mm for easier angle slotting
Useful in different applications, from electricity and water installation jobs to repairs and decoration
Comes with helpful accessories such as a water tank
Dust removal using water
Cons
May be heavy and inconvenient to carry
---
Bosch Professional Dust Extraction Guard
Sale
This guard is one of the lightest to handle, weighing about 700 g with a handle that makes cutting easier. The Bosch Professional wall chaser has angle grinders with disc diameters measuring 115/125 mm. The manufacturer built it specifically to enable dust extraction. As such, few products are more successful at making your work environment almost dust-free, for clearer vision and cleaner space than the Bosch Professional Dust Extraction Guard. 
There is an adjustable protective guard that comes tool-free. You can directly attach the guard to the angle grinder to handle the machine more effortless. Also, the tool has integrated wheels and an adjustable cutting depth for different occasions to produce work with precision. Furthermore, installing the angle grinder is stress-free, and an adapter is part of the package for easy hose connection to aid dust extraction.
The tool is so efficient at extracting dust during work that you may not need any nose protection. However, you may consider taking an extra protective step by wearing a nose mask while using the wall chaser. You can cut slits in brick walls, plaster, and other kinds of material with the tool due to its strength, power output, and versatility.
This tool fits the bill if you have been looking for a lightweight wall chaser with excellent dust extraction and an uncomplicated assembly method. The wall chaser is also easy to store because of its size and weight.
Pros
High capacity to process the work area
Excellent dust extraction
Easy to assemble and disassemble on the wall grinder
Manually adjustable cutting depth maximum of 25 mm for 125 discs and 15 mm for 115 discs
Guide nose to create straight slots
Cons
Needs cleaning after each use
May be too small for extensive jobs
---
Accessories for Wall Chasers – Vacmaster M Class Dust Extractor
Vacmaster M Class Dust Extractor 110V Wet & Dry Industrial Vacuum Cleaner 38L with Integrated 110V Power Take Off Socket & Push Clean Filter System
WET OR DRY - The WD M38 110V is built for powerful performance with a 1100W motor and a 38L collection capacity. 110V 16A POWER SUPPLY - Manufactured to meet the UK Health and Safety Executive guidelines for safe, portable electrical equipment
M CLASS DUST EXTRACTION - Independently certified, this model has been proven to safely and effectively capture medium hazardous dusts by removing 99.9% of dust particles with an OEL value of less than 0.1mg/m3
IMPROVED AIR FLOW - Vacmaster's new Push Clean Filter System does the grimy work for you by utilising reversed airflow to clean the cartridge filter and push trapped debris back to the collection tank, preventing clogged filters and drops in suction performance
TWO STAGE DUST COLLECTION - The WD M38 110V comes with 5x hygiene seal dust bags and 5x disposable tank liners. Place a liner into the tank and a dust bag onto the suction inlet for the Two Stage Dust Collection to ensure that no hazardous dust becomes airborne or is left in the tank
VACMASTER BY CLEVA - We use the latest processes and highest engineering standards to create powerful products inspired by your needs. The result is a wide range of products with exceptional output and durability
If you are an electrician, you will understand the necessity of having a way to reduce the dust and grime in your work area. Put simply, there are different tools to use regularly, including wall chasers. All of them generate a fair bit of dust from the chasing process. So, having an excellent method of extracting dust is as crucial as a reliable wall chaser.
In light of this need, the Vacmaster M Class dust extractor is ideal for any work environment. It is a 38-litre wet/dry industrial vacuum cleaner with an 1100-watt motor and a powerful dust extraction capacity. The vacuum cleaner can remove about 99.9% of hazardous dust particles. It typically has an occupational exposure limit (OEL) value of 0.1 mg/m3.
It is not your average vacuum cleaner. The device uses a two-stage dust collection process. The first step is that you must put a disposable tank liner into the collection tank, and the next step is to put a dust bag on the suction inlet. Then, the cleaner passes the collected dirt through the two stages to ensure there is no hazardous airborne dust or any left in the collection tank.
The result is that the work area and the entire environment have a better flow of air, healthy for breathing due to the absence of dust particles. The Push Clean Filter System designed for the vacuum cleaner uses a reverse airflow technique. The technique cleans the cartridge filter and pushes back trapped debris into the collection tank. Consequently, the filter does not get clogged, and the suction maintains optimum performance.
Pros
Wet/dry vacuum cleaner works on hard surfaces
Top-notch dust extraction and cleaning capacity
Collects dust in two stages for a better performance
Better airflow with the Push Clean Filter System
Comes with an anti-static brush and crevice tool, power tool adaptor, floor nozzle, and dust bags
Cons
Hose may be a little short
Expensive
Motor may have low power
---
Everything You Need to Know When Choosing a Wall Chaser as an Electrician
The average electrician already knows what the tool is and how vital it is for specific jobs. However, if you are unfamiliar with the term, you may have difficulty grasping what wall chasing is.
What Are Wall Chasers?
A wall chaser is a power tool that allows the user to cut a wall groove in masonry for laying pipes and electrical wires. It is usually small enough to be carried by hand. Most wall chasers allow you to mount more than one blade simultaneously, sometimes a triple-blade, for a more adequate and better cut in one attempt.
Factors to Consider Before Choosing a Wall Chaser
If you want to choose the best tool for wall chases, consider several factors, some of which we discuss below.
Blade
Some wall chasers have abrasive saw blades, while others have diamond blades. An excellent one may have parallel diamond blades. One of the most crucial parts of an excellent wall chaser is the type of blade it comes with, and many manufacturers aim for world-class ones.
The blade must be able to cut correct widths and depths in bricks, concrete, cement, and other types of masonry. That makes it easy to lay piping and wires during construction and repair work. The type of jobs you do will determine the blades you get. You may rely on the included ones or purchase others to complement what you already have. A chaser with a triple-blade provision is excellent.
Cutting Adjustability
The best wall chasers have the capacity to cut a depth of 0.98 mm. Some have a design to take more than one cutter. Such wall chasers can cut parallel grooves or even a vertical groove. A wall chaser's cutting depth and maximum slot width depend on the model and design, so you may find varying results per chaser.
Different occasions demand varying cutting depths. So, the capacity of the tool to adjust the width and depth plays a vital role in how the result turns out. When you can determine the exact jobs you do regularly, you will know the ideal wall chaser. The best step is to get one that allows use for different circumstances.
Dust Extraction
Not all wall chasers come with a dust extraction system. However, most have pipes through which you can extract dirt while some allow you to connect a regular vacuum cleaner for the job. Others, however, have water tanks for dust proofing.
This feature reduces the dust in the area of work. It does two things with dust reduction: provide a clearer view and protect your health. Another advantage is that the lack of dust helps the tool last longer. If your choice does not have a dedicated dust extraction system, use a vacuum cleaner and connect it with an adaptor.
Cutter or Disc
Cutters work differently from blades and provide different results. A cutter attached to the chaser is ideal if you want to cut grooves in plastic or wood materials. However, a disc is more suitable for making grooves on hard surfaces such as cement, concrete, or brick. Consider these options when selecting a wall chaser with a cutter or disc.
Frequently Asked Questions
Do electricians chase walls?
The nature of an electrician's job makes it vital to chase walls in construction. Electricians chase walls when they need to install cables and electrical wiring. Many electrical connections are invisible because they sit within the walls. Without a wall chaser, an electrician cannot install the necessary cables and wires. There are many types of chasers an electrician can use, and this article reviews some of the best ones on the market.
How does a wall chaser work?
A wall chaser is a groove cutting machine for laying electrical wires and cables. The grooves are usually narrow for such installations, and cutting discs of a wall chaser perform this task in an ideal manner. Angle grinders are also suitable for the same task, but they usually have no way to remove dust from the work area. Therefore, the preferable tool for chasing walls for contractors is wall chasers due to the inclusion of dust extraction systems.
How does a wall chaser work?
A wall chaser is a handheld tool that runs continuously along the wall. It usually has blades in the form of cutters or discs to cut grooves in the wall. The surface you work on determines the type of blade you use, but you might find the diamond and abrasive blades most effective. Some tools have guiding noses that allow you to cut in a straight line for a better result, even for parallel lines. Also, some have a self-locking power switch.
What is the best tool for chasing walls?
A wall chaser is the best tool for chasing walls. Angle grinders perform the same task but are less efficient than the former. There are a few circumstances where a grinder works better. Nevertheless, the chaser is more popular for a few reasons. One is that a chaser makes room for dust extraction. That means the tool lasts longer, and your health is better. The chaser also allows for adjustable cut depth for better accuracy.
Are wall chasers expensive?
Many of these tools are expensive, some costing hundreds of dollars. The more accessories they carry, the higher the price. However, some are affordable without compromising delivery. We have reviewed some of them in this article. You can even rent chasers if you find the right channel, especially if you do not have the immediate funds for a new one.
Conclusion
What is the best wall chaser for electricians? It depends on the surface and the job the electrician has to do. However, we have reviewed reliable and affordable chasers for easy selection. We have also included a high-powered wet/dry vacuum cleaner for chasers without a dedicated dust extraction system.
Ensure you know the specifications that fit the chasing jobs you have before selecting a tool. The buying guide in this article shows you what you need to remember when picking out the best wall chasers. The blade, cutting adjustability, blade type, and dust extracting method are vital factors that inform your choice of a wall chaser.
You will find several recommendations online, with manufacturers and affiliates clamouring to sell their products. However, knowing how to narrow your choice is crucial for a smooth operation.