Best Stud Detector for Electricians– Top 5 Stud Finders in 2022
Although we generally believe that stud detectors are majorly for electricians, the tool has proven indispensable in homes. Do-it-yourself homeowners often get the device to locate studs quickly in their walls. Thus, they can hang their items such as a picture frame, mirrors, and a flat-screen TV on the drywall without fear of falling off. This is particularly important because the build of the drywall is such that hanging heavy items on it can lead to its crash.
Stud detectors might be seen as excessive accessories, but they are significant in understanding the layout of walls and preventing dangerous mistakes. Notably, the best stud finders possess features that assist users in other ways than locating the exact spot for hammering. These features are LCD screens, spirit levels, and detectors of a live wire.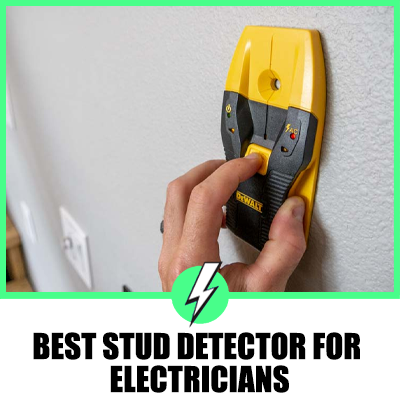 While using stud finders, you should always keep certain things in mind for accurate results. First, you should not touch the wall with your hands as you drag the tool over the border to prevent altered readings. In addition, you can put painter's tape around the area you want to scan to help you get your findings without writing on the wall. Lastly, when locating a stud, you should check the top and the bottom of the spot to ensure it continues to the ground or up to the ceiling. This is because stud finders might sometimes detect metals or nails.
With all that being said, we'll explore the top five stud detectors for electricians in this article. In the end, you should have a fairly good idea of what would work best for you.
5 Best Stud Detectors in 2022
Since several companies produce many stud finders and claim to offer the best tool, we were extra careful in selecting these tools. Among other things, the tools below are very accurate in finding studs and offer excellent warranties and customer support.
Preview
Title
Bosch Wall Scanner D-Tect 200 C
Bosch Stud Finder GMS 120
ENGiNDOT Stud Finder Wall Scanner
Our Pick For
Effective for Maximum Depth Detection
Preview
Title
Bosch Wall Scanner D-Tect 200 C
Preview
Title
Bosch Stud Finder GMS 120
Our Pick For
Effective for Maximum Depth Detection
Preview
Title
ENGiNDOT Stud Finder Wall Scanner
Bosch Professional Wall Scanner D-Tect 200 C – Overall Best
Sale
Bosch Professional Wall Scanner D-tect 200 C (detection of (non-) live cables, metal, plastic pipes, wooden studs and cavities, USB-C™ Cable, 4x AA batteries, Protective bag)
BOSCH RADAR TECHNOLOGY: The detector uses advanced radar technology to detect all common objects: live/non-live cables, water-filled/empty plastic pipes, magnetic/non-magnetic metal and wooden studs
EASY DOCUMENTATION: The screenshot feature supports quick and easy documentation of the detection results, which can be downloaded via USB-C and and Micro SD card.
INTUITIVE USER INTERFACE: For precision, higher safety, and clear illustration of detected objects. Four different view settings offer flexibility to get the best results for each situation.
APPLICATIONS: The D-tect 200 C is ideal to search for objects before drilling and monitor construction progresses. It also features a leakage detection function to locate leaks inside walls.
ITEMS INCLUDED: Wall Scanner D-tect 200 C, AA1 adapter, 4x AA batteries, USB-C cable, hand strap and protective bag.
Bosch professional wall scanner is a product of a top-rated tool company. This exceptional detector uses radar technology to detect objects. Some materials that this finder locates are magnets, live electrical wires, non-live wires, plastic pipes, and wooden studs. Furthermore, this stud finder has a screenshot feature that helps users to be able to document the results gotten. Markedly, you can download the screenshotted results via USB cord and SD card.
Another feature of the Bosch professional wall scanner that makes it highly sought-after is its possession of an intuitive user interface. This lets users get a clear view of the detected studs or metals. In addition, the tool possesses four view settings that enable electricians and DIY users to get the best illustration.
We'll have you know that this tool helps search for objects during drilling and construction. Notably, the device does not only focus on locating studs and metals as it also helps to detect leaks in walls.
Highlights
Four different Views: Bosch professional wall scanner offers four distinct illustrations of objects for better views. The first one is the object view which visualises all the things it detects at a glance and gives them an indication of depth. This view also provides the name of the material that the user is viewing. Next is the spot view, which displays the first result when users place the device on the wall. Thus, it enables the electrical use of the device in tight places. The third measuring view is the signal view 2D which displays the strength of signals and allows users to access complicated material structures. The last one is the signal view, which complements the function of the signal view 2D.
Diverse Settings: This tool can detect concealed studs and has different settings which allow the users to select the type of wall he wants to detect. Thus, you can use the Bosch wall scanner on concrete, hard grounds, ceramics, and other wall types.
AA Batteries: The tool comes with four AA batteries which further boosts its efficiency. Fortunately, it uses AA batteries, making it easy for users to replace when the ones from the company go bad.
Pros
Radar technology
Updateable
Screenshot feature
Compatible with 12V
Centre indication
Battery-powered
30-day money-back guarantee
Cons
Works better on some wall types than others
---
Bosch Professional Stud Finder GMS 120 – Effective for Maximum Depth Detection
Bosch Professional Stud Finder GMS 120 (Drill hole marker, max. detection depth wood/magnetic metal/non-magnetic metal/live cable: 38/120/80/50 mm, in cardboard box) - Amazon Exclusive Set
3 DETECTION SETTINGS: Metal mode is ideal as a metal detector, while Drywall and Live Wire modes are optimized to act as a stud detector and cable detector, respectively.
SUITABLE FOR: Detecting objects to avoid drilling like when fitting a wall cabinet or heating system, or for finding objects to drill into such as detecting wooden studs to fit drywall.
3-COLOR INDICATOR: The LED ring around the center marking hole turns red for a detected object, yellow for a nearby object, and green when no object has been detected.
DRILL HOLE MARKER: The included marker for drill holes is especially useful to mark the exact point where to drill. It  features an extra-long and thin stainless tip for hard-to-reach areas.
ITEMS INCLUDED (Amazon Exclusive): Stud Finder GMS 120, Drill hole marker, hand strap, protective bag, 1 x 9V battery.
Another product on our list is also from Bosch professional store. This stud finder is a GMS 120 that possesses many exceptional features. Markedly, Bosch professional stud finder GMS 120 has a three detection setting that helps produce a very accurate reading. The first setting is the metal detector that works effectively as a metal detector. Next is the drywall mode that the manufacturer has optimised for detecting studs. The last setting that this tool has is the live wire mode, which helps to see electrical wires.
It is essential to use this stud finder to prevent unnecessary drilling when you want to fit a heating system or similar objects. Furthermore, the tool works effectively when looking for objects to drill into. For instance, it is easy to locate wood studs to fit drywalls when using GMS 120.
GMS 120 also has a three-colour indicator. Due to this feature, it is easy to understand how the tool works. This stud finder has an LED ring around the centre marking hole, which turns red for objects the device detects. Also, it shows yellow light for things that are nearby and green when both objects are detected. The colour input is straightforward to master and thus promotes a better understanding of how the product works.
Highlights
Detection Setting: GMS 120 has a standard detection setting which includes the metal setting. Markedly, this metal set works well for magnetic and non-magnetic metals. Additionally, the setting can locate up to 5cm live wires on different wall types.
Impressive LED Ring: Unlike other brands, Bosch GMS 120 has a LED ring of three colours that indicates how the tool works. This colour indication feature has assisted many electricians and do-it-yourself homeowners in understanding how the product works and, thus, its practical use.
Portable: This tool is lightweight and portable. Thus, users can carry it about for construction work or indoor use.
Pros
Prevents unnecessary drilling
Has a 3-colour indicator
Possess drill hole marker
Protective bag
It has the wire detection feature
9V battery from the company
Accurate results
Cons
Requires lots of practice for familiarity
---
ENGiNDOT Electronic Stud Finder Wall Scanner– 4-in-1 Stud Detector
Stud Finder Wall Scanner, 4 in 1 Stud Detector, ENGiNDOT Electronic Stud Sensor with Digital LCD Display for Wood, AC Wire, Metal Studs Detection, with Automatic Calibration and Audio Alarm, DMS03
【4 in 1 Function】 The wall detector can detect ferrous metals, non-ferrous metals, wood and live AC wires. It can accurately and quickly locate nails, screws, steel bars, wooden beams, AC wires, etc
【5 Scanning Mode】The stud finder is located the center of wood studs in exact mode and deep mode up to 0.75 inches deep and 1.5 inches deeper separately; Detecting the ferrous metal up to 4 inches and non-ferrous metals behind walls up 3.15 inches; Live AC wire mode up to 2 inches deeper
【Large LCD Display & 3 Color Indicator】The detector has a large LCD display which could show four scan mode, detection depth, detection signal strength, battery and audio signal indicator etc; The indicator shows green when the detector calibration is ready and changes from yellow to red as you approach the center of the detected object
【Automatic Calibration】The wall detector could calibrate automatically, no need to press the button manually all the time (Note:Please make sure to calibrate it at a position with no studs or AC wires nearby).Note: This product cannot be used in an environment with a humidity higher than 65%, otherwise the measurement will be inaccurate or the object to be measured cannot be found
【Ergonomic Design】The stud detector has a sound and light alarm function and adopts an upgraded ergonomic design to meet your DIY and home projects; The cotton on the back has prevented the damage caused to the wall, safely and conveniently
ENGiNDOT stud finder is an effective tool that has proven indispensable over the years. Significantly, these wall scanners possess a 4-in-1 detector capable of detecting both ferrous and non-ferrous metals. In addition, the tool locates studs, metal screws, nails, steel bars, and live AC wires. Since this tool possesses these exceptional properties, it has become well-known in the stud detector market.
Furthermore, this product possesses five deep scan modes for effective and accurate readings. This stud finder can locate the centre marking of wood studs in its exact mode. 
Additionally, the tool helps detect metal studs of 0.75 inches deep and 2.25 inches, respectively. The product is not limited to these depths as it is also effective in detecting ferrous metals of up to 4 inches and non-ferrous metals of up to 3.15 inches. The fifth scanning mode locates live AC wires 2 inches deeper into the wall.
Highlights
Visible LCD Display: ENGiNDOT stud finder has a large LCD that can show signal strength, battery, audio signal, and four scan modes. In addition to the LCD, the product has three colour indication features that help users to enjoy the maximum benefit of the tool.
Calibrates Automatically: Uniquely, this stud finder can calibrate automatically. Thus, you don't have to press the button every time manually. A noteworthy point of caution is that if you use the product in a place with humidity higher than 65%, you won't get an accurate measurement.
Design: This stud detector has an ergonomic design that is designed to meet your requirements as an electrician and a DIY user. The tool is light and has cotton on the back, preventing damage when it falls or hits walls.
Pros
Multi-function detector
Easy to use
Supports AC wire detection
Allows both wood and metal stud detection
4-in-1 function
30-day money-back guarantee
Ergonomic design
Detect stud centres
Automatic calibration
Cons
Results can be inconsistent in different locations
---
Bosch Professional Wall Scanner D-Tect 120– Works Effectively In Controlled Environments
Sale
The fourth brand on our list is D-Tect 120 from Bosch professional. This company proved that it was not resting on its hinds when it produced this tool. Fortunately, like the other products of this company, people love this D-Tect 120 and highly recommend it to other prospective buyers.
Markedly, this tool uses radar technology to locate all object types ranging from metals to wood studs, live and non-live cables, and water-filled plastic pipes. 
Highlights
Three Distinct Detection Settings: Bosch professional wall scanner D-Tect 120 has three detection settings available. Thus, you can choose the one that works best for the wall type you are working on. There is a mode for drywall, concrete and universal for unknown materials.
Two Power Sources: The tool has dual power sources, which are a 12V li-ion battery and standard AA batteries. However, for flexibility, you can use the endoscope with a 12V battery.
30-day Money-back Guarantee: D-Tect 120 offers a 30-day money-back guarantee for the satisfaction of customers. This is to ensure that users can request a refund provided they do not like the product's function.
Pros
Instruction manual
Radar technology
Dual power source
4 AA batteries
Easy to use
Detects a wide variety of objects
LED indicator
Cons
The usefulness of the product depends on the environment
---
Bosch Cable Finder Truvo– Top-notch Wire Detector for Walls
Sale
Bosch Cable Finder Truvo (Maximum Detection Depth Live Cable/Non-Magnetic Metal/Magnetic Metal: 50/60/70 mm, in Cardboard Box)
Live Wire Detection: The cable detector locates live wires up to depths of 50 mm and warns users with a blinking red light and beeping signal
Metal Detection: The Truvo can also act as a metal detector, locating magnetic and non-magnetic metals at depths of up to 70 mm and 60 mm respectively
Auto-Calibration: The wall scanner automatically calibrates once the device is placed against the wall and will recalibrate when placed in a new position
3-Color Indicator: The LED light turns red for a detected object, yellow for a nearby object, and green when no object has been detected
Warning Signal: A beeping signal indicates when the cable finder is getting closer to a detected object
If you want to be particular about the accuracy of your reading, especially when there are supporting pipes, cables, and elements in walls, this tool is the one for you. Bosch has again proven to always meet users' needs as this product assists people who need to be extra careful about the accuracy of live wires. Furthermore, the product locates ferrous and non-ferrous metals of about 7cm. In simple terms, the tool detects live wires of 50mm depths. Then, users get to know the presence of the live cables through a beeping sound and blinking red light.
Markedly, Bosch cable finder Truvo has an automatic calibration. The cable scanner calibrates automatically when users place it on a wall. Then, it recalibrates when it is in a new position.
Highlights
Single-button Operation: This tool possesses a single button. You only have to press the ON/OFF button, then wait for the stud detector to scan before you begin to use it. There are no other complex steps to follow.
Warning: Bosch Cable Finder Truvo warns when the tool gets closer to a detected object. The sign it provides is a beeping sound. Thus, the user can easily and quickly locate studs and metals.
Accurate: Another feature of this tool is its accuracy. You can count on the device to give you an accurate reading and correctly detect studs, metals, and live wires, respectively.
Pros
Marking aids
Single-button operation
LED light
Light-weight
Possess warning signal
Correct grip
Cons
Batteries wear out quickly if not removed after use
---
Things to Consider Before Buying a Stud Detector
Before you place your order for your stud detector, either the regular stud finder or other stud finders, there are certain things you should look out for to prevent future regrets. 
Although we listed the five best stud finders in this list, we also put together this guide for people who want to choose a brand themselves. This way, they can pick their tools rightly and easily. Below are the criteria a good stud finder requires.
Category of Stud Detector
We'll have you know that there are two categories of stud finders which are electronic and magnetic stud finders. The magnetic finders possess rare earth magnets for detecting the accessible location of drywall screws that hold the drywall in place. In addition, most of these magnetic stud detectors are light with powerful magnets. While using this tool, you must move it in a sweeping motion to detect studs quickly.
The other stud detector is the electronic one which utilises internal sensors to point out the wood studs. Significantly, these tools notice a change in the density of the space behind the wall. Most of the top electronic stud finders are usually pre-calibrated. To use an electronic stud finder, it is best to move it in a horizontal motion over the wall. Then, when it discovers studs, it will release a loud alarm. Electricians prefer to use electronic stud detectors as they do not detect all metal objects like magnetic ones.
Quantity of Sensors
Although electronic stud detectors were invented in the 1990s, they have grown to become highly sought-after in the construction market. You should remember that an electric stud finder uses sensors to determine the location of studs in a wall. Hence, if a finder has one sensor, it can only detect a stud's edge, while one with multiple sensors finds it very easy to see the stud edges and the stud's centre. While both stud finders with single and multiple sensors are reasonable, if you need a great deal of accuracy to get your job done, you should choose a stud detector with multiple sensors.
Size of Stud Sensor
While looking for a stud finder to purchase, you should also check the stud sensor size. Stud detectors usually come with large or small sensors, each having advantages. Thus, you should choose the one that best meets your requirements. Stud detectors with large sensors can check large areas and penetrate solid walls. On the other hand, stud finders with small sensors usually give more accurate results. If you are a do-it-yourself homeowner, you don't need to choose a specific sensor size as both work efficiently in pinpointing the location of studs in drywall. As a professional electrician, you might want to go for something with smaller sensors and more specific readings. 
Depth Adjustment
Another factor you should look out for before buying your stud detector is if it has a depth adjustment. This is for a deep scan or simple wall tests. It would help if you always remembered that only electronic models have this feature.
Brand Reputation
Some people might not recognise the effects of brand reputation on the efficiency of a product, but we have come to know this fact, and it should guide you in selecting the best. A company with a solid reputation must have done specific things to achieve that. With this in mind, you should only choose brands that are already well-known for offering top-notch tools.
Durability
Another criterion you should check for is the durability of the tools you're interested in. Specifically, you want to look out for the general make-up, material, and battery life of electronic stud detectors. If the brand uses robust plastic and high-quality rubber mouldings, that's usually a good sign. With regards to batteries, you want a product that has or supports high quality batteries like Duracell.
Price
Most times, the price of stud detectors depends on the product's function and your budget. If you want to go for a magnetic stud finder with easy duties, you won't have to pay as much as when you purchase the tool with more features. Thus, you should buy a brand's product within your budget.
Frequently Asked Questions
Can I use stud finders on ceramic tiles?
Electronic stud detectors are not very good at finding studs on ceramic tiles. However, these unique stud detectors are able to work much more effectively when they're built with a deep mode feature. As such, if you'll be working with a wide range of surfaces, you'll likely want to get one that comes with this feature. The chances are that it won't work on every single surface as no product is that perfect. But, it will certainly increase your chances of getting the job done.
What's the standard distance between wall studs?
Using the on-centre method, wall studs are usually 16 inches apart. That is, the centre of a stud will be 16 inches from the centre of the former. However, there are other acceptable measurements and, because of them, a stud can have a 19.2-inch or 24-inch distance from the centre for the previous and next ones.
When my stud finder beeps, what does it mean?
There are diverse stud finders, each having distinct features. As a result, the signal that each tool emits depends on the device that is bought. While some of these stud detectors give the beeping sound when they notice a nearby stud, some also beep when they see the centre of the stud. Therefore, you should study the instruction manual that comes with the tool to know what each beep signals.
Conclusion
While we tested a variety of stud finders before we picked these five, we ensured that they met all the factors we judged them by. In addition, trying these products was enjoyable as we could discover certain uniqueness that each possessed. Thus, if you have been looking for the best stud finder for your work or home decoration, you should read through the article to pick one.
Furthermore, while we did our research, we learned that electronic stud detectors were the most recommended for electricians and do-it-yourself homeowners. The electronic stud finders rely on sensors to accurately detect wood and metal studs.
The stud finder quickly detects where to fix mirror mounts and other items too heavy to get hung on the drywall itself—getting the studs enabled people to fix their things without fearing it falling off or the wall crashing down.
However, if you have checked through our list and want to do more research on these brands, you should go through the buying guide to note what to check out in each product.
Specifically, you should ensure that you purchase tools from industries with a good reputation in the construction market. It is preferable to get tools from these places as they have already received recommendations from numerous people who have tested their efficiency.
Overall, endeavour to place your order for these tools online as it is more trustworthy to get from the company directly than through intermediaries.