Best Impact Driver for Electricians
All electricians know that a good impact driver is the first thing to buy when piecing together your first tool kit. It does not matter whether you are an amateur or a professional electrician; you will need an impact driver to make a difference in your job.
If you need to drill some long screws and have your power tools available, it becomes much easier and faster. Hence, the best impact drivers help you to save time and energy.
Getting your first impact driver could seem quite challenging. However, it does not have to stress you that much. In our review, we outline the best impact drivers suitable for electricians. You can use these impact drivers to obtain a superior bit gripping strength.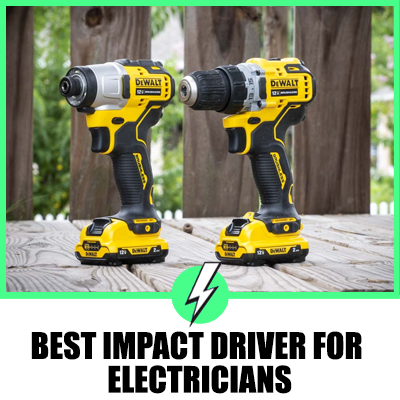 This product roundup will give you an insight into the best drills for electricians available. The review also points out what features you can look out for when selecting your product of choice for more power.
Best Impact Drivers of 2022
Preview
Title
INGCO Brushless Impact Driver
Preview
Dewalt DCF997N
Sale
DEWALT DCF887N 18v XR 3 Speed Li-Ion Brushless Impact Driver Naked Body Only Unit, 18 V
High power brushless motor outputting up to 205Nm of torque ensures heavy applications are completed quickly
Application control is achieved through 3 motor speeds and torque settings including precision drive
Precision drive mode offers additional control in screwdriving applications to avoid material and fastener damage
Super lightweight And compact the tool is very comfortable to use and fits in small spaces
3x LED "Halo" Light ring offers excellent workpiece lighting
Dewalt tools provide the best impact drivers for electricians. The Dewalt DCF997N 18v XR brushless impact driver drives screws into several surfaces like plasterboard, wood, plastics, and some metals. You could even use this impact tool on concrete. This tool has versatile uses which allow you to complete all your DIY projects with ease.
This impact driver offers exceptional value for your money. It has a brushless motor that allows you to enjoy maximum speed. The drill's torque output also speaks of class and efficiency.
Considering its size and cost, the impact driver does give out excellent power. This impact drill offers three modes to help you complete different jobs. You don't need to worry about the efficiency of this impact driver because all three companies took the time to design their tri-mode functions.
This tool can compete with a professional impact wrench when using nuts and bolts due to its power level. You can easily adjust the speed and power of this tool to help you work efficiently on work and heavy jobs. Hence, you can use this tool for a variety of jobs.
Features
High Efficiency: This product has a high-efficiency brushless motor that effectively controls high speeds. Also, the Dewalt DCF887N 18V XR power tool supports two batteries (Dewalt 2.0Ah Batteries). The battery power of this impact driver increases due to its lithium-ion battery life. While the product does not come with batteries, you can use a high-spec lithium-ion battery from another model.
You will also find that this product comes with a multi-voltage charger that allows you to power your batteries.
Efficient Impact Mechanism: One outstanding feature of this device is that the impact drill uses a new impact mechanism. Hence, the tool can better speed control and have a long drive. You can enjoy this feature when working with more rigid materials. The DCF887N drill for electricians maintains a decent speed of about 430rpm when working on challenging projects.
Drop and Load Feature: This device makes your life easier when carrying out DIY jobs around your home. You can enjoy the "drop and load" feature that allows you to easily switch between settings. Furthermore, the tool has accessible and understandable settings that favour beginners.
Excellent Design: This impact driver has a perfect compact and lightweight design. The size is big enough for the tool to provide the sturdiness and power you need. Interestingly, the drill wrench is still small enough to ensure you don't get tired when using your power tool. It has just the right design to help you easily navigate tight areas.
Triple Led Flashlight: You will also enjoy the three modelled flashlight systems used by this tool. The led lights help to illuminate the tight spaces for you to get a better view.
Low Impact Vibrations: This tool has a significant boost because of the low-impact vibrations that allow you to handle the device effortlessly. Hence, you can use this device without worrying about aching arms.
Pros
Highly efficient
Brushless impact driver
Durable lithium-ion battery support
Maximum power with compact and lightweight design
Affordable pricing
Work efficiently in the dark or confined spaces
High-speed control
Cons
You have to source batteries
---
Makita TD110DWAE
The Makita TD1100WAE is a cordless impact driver suitable for electricians. This product is a favourite impact driver for handypersons looking to quickly get precision work done.
This cordless drill has a compact and lightweight design that allows you to work in tight spaces. Furthermore, the product will enable you to enjoy more power. One thing that users loved about this product is the torque limiting clutch that allows you to enjoy a soft grip.
The Makita drill gives an impressive power output compared to the same impact driver from another brand. It does not matter if you are a professional or an amateur; you will enjoy using this best brushless impact driver.
Features
Compact and Ergonomic Design: This product has a metal gear case and a compact design that makes screw driving easy. Because of its design, you can navigate your way through tight spaces. In addition, the compact head makes it easy to fit into the smallest hoes compared to other drills.
Lithium-ion battery: This device is a cordless drill that comes with two lithium-ion batteries per pack. The battery ensures a high power output, just enough to avoid too many vibrations. Furthermore, the maximum torque on this device is 110nm. One good thing with this device is that you can do much work before the battery dies.
Manufacturer's Guarantee: This Makita drill has a one-year guarantee that allows you to enjoy this device. If you have any issues within this period, you can return the impact driver for a repair or replacement.
Fast Charge Time: It takes only over 70 minutes to charge the batteries of this cordless impact driver. Once the batteries get charged, you can use your device for extended periods because of the long battery life.
Carry Case: This brushed impact driver comes in a carry case that makes movement easy. Hence, you can quickly move your impact driver without worrying about the packaging. The carry case protects your impact driver from impact when it falls.
LED Light: You will find that this product has a LED light function that allows you to see even in a pilot hole. The LED lighting also serves as an indicator when using the machine.
Bolts: This Makita device supports a standard bolt capacity of m5 to m12 and a high tensile bolt capacity of m5 to m10. The device also supports a screw capacity of m4 to m8. You can use this drill driver to work on coarse thread lengths of 22 to 90mm.
Pros
Easy to use
Carbon brushes included
Easy ergonomic design
High battery life
LED lights available
Low vibrations
Multi-purpose drill driver
Cons
It only comes in one colour
---
INGCO Brushless Impact Driver
Sale
INGCO Brushless Impact Driver 20V Li-Ion Cordless Impact Driver with 2Pcs 2.0Ah Batteries (BS Plug), 1 PCS Charger, 1/4 Inch, 170NM CIRLI20023
Design: metal shell, larger ventilation holes accelerate the cooling efficiency. Brushless motor bring a more powerful ability, less Failure rate, longer lifetime
Multi-function: forward and reverse switch, two speed regulation, intelligent regulation, torque up to 170N.m, suitable for screws and nuts of different specifications; LED working light, with good light diffusion, can illuminate more areas. quick release chuck,sturdy holding and quick release
Convenience: lightweight body design with screwdriver head bits and nut, suitable for daily use; The metal hook can be hung at the waist for aerial work. The canvas bag is easy to take in. Suitable for furniture, houses, etc
Intelligence: battery pack with power indicator, with over- heating protection, quick charger takes only 1 hour; battery pack and charger are compatible with the full range of products of INGCO P20S platform
Included components: 1 impact driver + 2 batteries+1 charger (BS Plug)+2 screwdriver bits (65mm) + 3 nut holders + 1 canvas bag
This brushless impact driver has an advantage over standard drills for electricians. This device provides an enormous torque that helps you drill a giant screw. You can also make a big hole with this small impact driver. Furthermore, this device has a self-tapping screw mode that allows you to drill screws into cedar lumber.
Another thing that sets this device apart is that you don't need to put much weight behind it to drill a hole. This device also acts as a hammer drill that produces enough torque to create forward pressure. Hence, the power drill works perfectly as a cordless hammer drill and executes projects efficiently.
Although this device is not a hammer drill, it works like one. While using this impact driver for some projects, you cannot substitute it for a hammer drill.
This cordless drill has a design that allows you to make quick changes. All you need to do is slide the collar forward while slipping in the bit. Regular bits don't work with this product. Hence, you will have to use hex-shaft drill bits.
Features
Compact and Sleek Design: This device has a metal shell that protects the device from external pressure and damage—the larger ventilation holes in the impact driver help speed up the cooling efficiency. Furthermore, the brushless motor ensures minor failure and a more robust experience. The brushless motors also support a longer battery life than a bare tool. The EC brushless motor makes the engine run faster and cool efficiently.
Multi-function: This impact driver has a reverse and forward switch and a two-speed regulator. You will also find an intelligent regulator with a torque of up to 170Nm. The torque aids screw driving of screws and nuts of different sizes.
LED Light: This device also has an LED working light that makes it easier to see in tight areas.
Convenience: The lightweight design of this impact driver makes it the best drill for electricians. You will find that the drill has a screwdriver head bit and nut, which you can use daily. Furthermore, the canvas bag makes it easy to carry this device around.
Intelligence: This impact driver has an overheating protection and a battery pack that helps you optimise battery energy—these features, along with the charger, work with other INGCO P205 impact drivers.
Pros
Highly efficient impact driver
LED light compatible
Variable speed trigger
Low vibrations
Easy to use
Cons
The trigger doesn't work well for some jobs
---
Milwaukee M18FID2-0
Sale
The Milwaukee drill is a must-have impact driver for professionals and DIYers alike. With its compact design, the cordless drill offers fast driving speeds and power to its users.
This impact driver beats many others on the market with its versatility. Furthermore, the battery life remains prolonged because of an efficient battery voltage. Your battery does not over-discharge, thus preventing overloads and excessive heating.
Features
Powerful motor: This device has an EC brushless motor that provides the proper lbs of torque. The powerful motor makes this device one of the best cordless drill impact drivers. The brushless motor offers about 166 lbs of torque. Hence, you can expect more productivity and finish more jobs faster.
Redlink Plus: This Milwaukee drill features one of the best components that help this impact driver.The impact driver also remains protected from overloads, over-charge, and heating due to the design.
Compact Tool: This is one of the best power tools you will find on the market regarding compact designs. The design helps you to work with smaller spaces.
Drive Control: This cordless drill gives you full power and speed control with its most versatile drivers. The cordless drill has 0-3600rpm and 0-4300ipm specifications. Hence, you enjoy every single penny when using this tool.
Lightweight: The Milwaukee drill is one of the most manageable cordless drills to handle due to its lightweight. At 1kg, this device remains the best cordless drill you can afford for that weight. You can use one hand when working with this device. Unlike other cordless drills, you will not get tired because they have lower vibrations.
Pros
Durable
Lightweight design
Reasonably priced
Perfect substitute for a bad hammer drill
Easy to use
Redlink Plus intelligence
Durable lithium-ion battery support
Cons
Batteries do not come with the purchase
---
Makita DTD152Z
The Makita brand has several cordless drills for electricians. You can trust this brand's products because they have an excellent reputation in the cordless drills industry.
This brand sells its tools in renowned stores worldwide. Although their headquarters is in Japan, you can find the products online for purchase and delivery. The brand has used its experience since 1991 to deliver the best cordless drills for electricians.
This Makita drill is best known for its affordable pricing. Although you still have to buy a battery and charger, you can easily use a battery and charger from other Makita tools.
This device works well for both professionals and amateurs. You can use this device on coarse threads without breaking a sweat.
You will find that this brand has the best cordless drills with good motor controls. Additionally, the brand uses the best quality steel to make gears and armature shafts for your devices. Another good thing with this brand is that they always perform quality control tests on their products before release. Hence, every machine that leaves the plant has high-quality assurance.
Features
Lightweight: This device is light and measures 8.5 x 17 x 21 cm with a one-kilogram weight. Hence, you can easily use this drill for long periods without getting tired. In addition, the device comes with an 18V cordless LXD Li-ion body.
Excellent Torque Balance: This machine supports 2,900 and 3,500 RPMs with 165 Nm maximum torque. Thus, you can conveniently use this device to drill holes without issues.
Because of the power, you can easily use these devices in place of cordless hammer drills. However, you must note that the device may not work as a cordless hammer drill.
Variable Speeds: This device has a one-touch hex chuck (1/4″) accompanied by a variable speed control trigger. The device also has high-efficiency brushless motor forward and reverse rotations. The efficient motor gives the driver a high rotation speed. Hence, this device sometimes serves the same purpose as hammer drills.
Efficient Screw System: This device drives screws and bolts like the best cordless hammer drills. The device supports machine screws M4 to M8 and standard bolts M5 to M16. In addition, you can drive in high tensile bolts M5 to M12 and wind a coarse thread of 22 to 125mm.
LED Light: The Makita DTD152Z supports a dual LED job light. This feature allows you to clearly while working in tight spaces. Furthermore, the device has an electric brake that helps you enjoy your grilling experience. The electric brake helps the brushless motor work more efficiently.
Pros
Lighter than expected
Better than other STD drills
High quality and robust drills
Classic design
Dual LED job light
Easy to use
Highly affordable
Cons
You may need to buy a battery and charger
---
Buying Guide
Buying the best cordless drill to help with your DIY or professional jobs could get frustrating sometimes. You could probably be looking for an impact driver to act as a hammer drill. Hence, you may want to go for the quality. With the influx of several counterfeit cordless drills on the market, it becomes pretty confusing.
We have outlined specific guidelines to help you look for the best impact drivers for electricians.
Buy from Reputable Brands: The best way to get good impact drivers is to leverage reputable brands. These brands build a reputation over time which helps them produce quality products. Hence, buying from them means getting the best products.
You can either visit the brand's official website to make your purchase or use popular merchant sites. Amazon is a popular merchant site you can patronise for your drill devices, and this platform has the best products for you.
There are several perks to buying from reputable brands. Firstly, you get to enjoy discounts and other offers. You may also get eligible for free shipping when you purchase from the official brand website.
Go for Durable Products: As much as possible, always try to buy products that last. Long-lasting products will save you the stress of repurchasing the same product after a while.
You can choose brands that have extended warranties. These product warranties tell you how confident these brands feel about their products. You can always return the product for refunds or replacements if you have any issues.
Compare Features: Never forget to compare features when buying your products. You already know what your impact driver should do when purchasing it. Hence, you need to confirm if your device has those features. Comparing the features helps you pick the best product with more satisfying and efficient features.
Frequently Asked Questions
Is a cordless drill the same as a hammer drill?
A cordless drill could be a hammer drill or an impact driver, and the cordless drill is a large family of drills. Hence, you may want to specify when talking about a particular drill.
Are cordless drills better drill choices?
We cannot categorically say cordless drills work better than other drills. However, cordless drills have advantages such as fast charging and battery support. Because you have a long battery life, you can use these devices without electricity.
Is the brushless motor impact driver better than the brushed motor impact driver?
The choice depends on the project you want to execute. Hence, depending on the circumstances involved, one may work better than the other.
Conclusion
We have reviewed the best impact drivers for electricians. The products we have included in our roundup come from reputable brands known for their quality. Thus, you can always use these products if the quality is what you desire.
These devices will help you drill holes and execute other DIY projects around the home. Furthermore, you can use these devices professionally because of their unique specifications.
Most products on our list offer maximum power and torque. Hence, you can also use them as viable replacements for hammer drills. However, you need to note that these devices cannot execute all the projects meant for hammer drills. Hence, you don't need to dwell much on that.
It will always benefit you to patronise reputable brands. These brands have the best products that will help you execute your projects. Furthermore, buying from reputable brands always has its perks. You could enjoy discounts and other benefits from patronising the official brand websites. Also, you can leverage reputable merchant sites like Amazon to get the best deals.
If you have any questions, you can always contact the customer service of the brand you've chosen. These brands always work hard to treat issues from clients and intending clients.