Should I Become A Plumber Or Electrician?
What is the best career choice, plumber or electrician? Do you need a bachelor's degree to train for either job?
The choice of career is often based on personal bias. Both are good career options and are equally in demand. Plumbers and electricians can work odd hours due to the trade requiring emergency cover. The electrician has the edge for salary, but both trades can potentially have high earnings.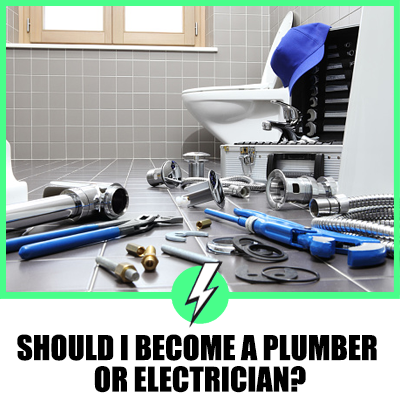 Is plumbing easier than being an electrician?
The two jobs are very different, but both have job satisfaction. Being a plumber is often now integrated into the gas fitter role if you are prepared to spend 4 years at college to become qualified.
However, there are shorter courses to track a plumber into the trade fast.
When comparing the two trades, the plumber has a more physical job than the electrician and can always be found under a kitchen sink on his knees fixing water leaks.
Do you need GCSEs to become a plumber?
If you are applying to become an apprentice plumber, the prospective employer will expect you to have a good education to manage the course's content.
Typically you will need a minimum of 5 GCSEs, including maths and English, with the lowest grade being a C.
You may also be required to take an aptitude test before being offered a position as an apprentice plumber.
How do I become a plumber in the UK?
There are two main routes to becoming a plumber in the UK. First, apply to become a plumbing apprentice.
Typically the apprentice plumber will be on a four-year apprenticeship and sent to college one day every week during the academic year and then will work alongside a professional plumber when back in the work setting.
Invariably the apprentice plumber on a four-year course will be training as a gas fitter and integrating plumbing skills into the coursework.
Second, sign on to a plumbing course at a training centre that specialises in construction trades. This can be a fast track way into the trade that will teach you most of what's needed to deal with water plumbing issues, from water supply to foul water drainage.
How quickly can I become a plumber?
If you opt for the fast track course, you can complete an introductory plumbing course within 16 weeks; this will give you some of the skills needed to work on leaking taps, and drains within a domestic setting.
There are no specific accreditations for a plumber, so you can start working after 16 weeks of training.
How do I become an electrician in the UK?
There are 3 routes available to the student wishing to become an electrician.
First is the traditional route to apply for an apprenticeship with a contractor or power generator. The apprenticeship will be 4 years long, and if you pass, you will gain a converted NVQ Level 3 Diploma in the trade you chose and trained for.
The second route which could be considered the least desirable is to sign on a college course that will give you the same qualification. 
Why is this less desirable? It will lack the hands-on experience needed to become a qualified electrician.
The third route is to sign on to an electrician course at a specialised training centre. Again, the big issue is how do you get your hands-on training?
How quickly can you become an electrician?
4 years. Being an electrician requires a lot of training academically and hands-on experience. It is pointless trying to fast track the electrician qualification.
After 4 years and gaining your NVQ Level 3 Diploma, you will need to work for at least another two years before applying to be an accredited competent electrician.
Do you need GCSEs to become an electrician?
Yes. You will need to attain at least 5 GCSEs with a minimum grade of C, and the subjects must include maths and English.
You may also be required to attend an open day and take an aptitude test before being offered a position on an apprenticeship.
Can you train to be a plumber or electrician later in life?
Yes. If you are in your late twenties, there is still time to apply for an apprenticeship if your financial commitment allows you to do so.
Candidates for both trades can sign on to specialised training centres and learn the trade.
In both cases, you will need to find a way how to get hands-on experience. This can be done as an electrician's mate or a plumber's mate. You may be working for nothing until you demonstrate your enthusiasm and worth when you could be offered a paid position.
Older candidates offer a lot to the industry and are deemed more reliable than a 16 year old fresh out of school.
Who makes more, the plumber or the electrician?
If you are an apprentice, the electrician will earn a lot more, say 25K, than 18K for the plumber. But realise that training costs money, so endure the four years and reap the rewards.
When qualified, both trades have comparable incomes, with the electrician having the slight edge earning almost ten quid a week more than the plumber if employed.
Is it easy for plumbers and electricians to become self-employed?
Yes, once qualified, the path to become self-employed is straightforward, and the investment is manageable. However, you will need some savings to live off while you become established.
For the self-employed plumber and electrician, the earning potential is sky high, and the pay differential closes completely with both trades being on a par with earnings.
Is being an electrician or plumber a tough job?
Both trades are physically demanding, and you need to have a decent level of fitness to do either job.
Both trades have their problems, electricians can get electrocuted, and plumbers can be up to their knees in raw sewage.
Which is better? It depends on your own perspective.