Industrial Electrician Vs Construction Electrician
Should you trust an industrial electrician to work on the electrical circuits in your home? Are the two specialities interchangeable?
Both are qualified electricians who have been training for four years through an apprenticeship or training course. Industrial electricians can understand domestic wiring but are not familiar with the regulations. Construction electricians are not qualified to work with high voltage.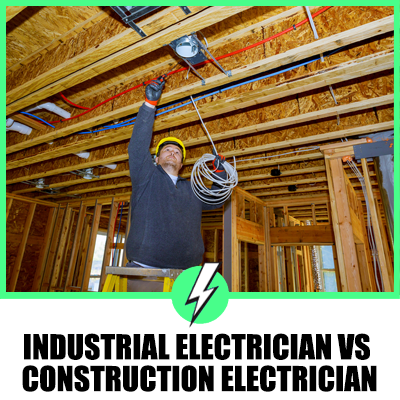 What is the difference between an industrial electrician and a construction electrician?
Essentially they are different specialities even though both are considered electricians.
The industrial electrician will install wiring, repair circuits and troubleshoot problems found in factories, hospitals, commercial centres like shopping centres, and anywhere where the use of 3 phase power is normal.
The industrial electrician normality is located at one site, albeit large. His work is confined to this area.
The industrial electrician has a varied job, from installing large machinery with complex control panels to changing light fittings.
A lot of the basic techniques are the same as a construction electrician, but the industrial electrician may not be fully aware of changes in laws and practices.
What is industrial installation?
An industrial electrician has specifically trained to work in facilities that use high voltage and facilities that can produce goods.
An industrial installation can be running cable through conduit and terminating cables to electric motors.
The industrial electrician will be used to troubleshoot instrument panels and control cabinets for complex industrial processes.
He may also maintain the running of power generators for continuity of power supply to the facility.
Is it tough being an industrial electrician?
The job can be challenging physically and mentally and requires an amount of physical strength. Pulling cables 4 inches in diameter is no mean fete due to the weight alone.
Everything in industrial electricity is more substantial outside of the control panel and requires some skill to manhandle larger cabling.
The need for mental acuity is always present when working on and troubleshooting control panels. It always starts with schematics in hand and tracing wiring numbers.
What qualifications do you need for a commercial electrician UK?
Both commercial and construction electrical courses are very similar. They both culminate in NVQ level3 Diploma after four years of training.
The significant difference is the commercial/industrial electrician has more knowledge of working with 3 phase and high voltage.
Of course, the main part of the learning process is a hands-on experience which will be very different in a commercial/industrial setting compared to working in domestic dwellings.
Construction electrician
You will find the construction electrician working on building sites across the country. They install cable for lights and power outlets around the home and work to strict codes of practice.
The construction electrician can also be a domestic installer and will work in any domestic setting to repair and troubleshoot circuit problems.
The construction electrician does not deal with 3 phase connection and high voltage systems, unlike the industrial electrician.
What does a UK electrician do?
Apart from dealing with household circuits and troubleshooting, your electrician may be able to repair your appliances. Still, they generally prefer the installation and repair of circuits side of the business.
You can ask your construction electrician to fit an electric vehicle charging point in your home or even a hot tub, as both installations come through a consumer unit.
What qualifications do you need to work as an electrician in the UK?
Because electricity behaves in the same way through circuits, the qualifications of a construction electrician are the same as an industrial electrician.
After 4 years, you will gain your NVQ Level 3 Diploma In electrical installations and electronics.
However, the similarities tend to stay in the classroom as the practical side is somewhat different for installations.
The construction electrician will be running 6 mm cable through wooden joists and chasing out walls to fit pattress boxes on the first fix.
The second fix could be deemed exotic compared to the industrial electrician. The job is much lighter but can also be strenuous as the electrician is expected to do more in the same time frame.
Are electricians in-demand in the UK?
Yes, there is a shortage of electricians across all sectors, including industrial/commercial.
Over the next 5 years, the industry needs to recruit at least 5,000 new electricians into the industry to keep up with the growing demand.
It is the perfect time to start training for the electrician trainee, as demand outstrips supply, salaries increase, and the opportunities to become self-employed in a burgeoning industry are immense.
Why is there a shortage of electricians in the UK?
It's not just the UK. It's the developing world that requires more and more qualified electricians.
The shortage is simple: electricians retire quite early, at around the age of 62, and not enough youngsters are coming into the industry.
Training to become an electrician is not easy, and you need to be prepared for the long haul. Most 16 years olds think that 4 years is a long time without considering what an electrician's life can offer in terms of job satisfaction and the potential to earn a lot of money.
Why are electricians needed?
Everything about future energy production is geared toward electricity. As the world moves away from hydrocarbons, alternative power generation sources come to the forefront, such as wind turbines and solar power.
However, these new technologies all have one thing in common: they produce electricity! Hence the requirement for the electrician is almost bulletproof in terms of job security.
Why do electricians retire early?
The main reason is they have had a high paying job for years and have contributed enough from their salary into a pension fund to enable early retirement.
Out of all the trades, the electrician is the person who will have the ability to retire early with sufficient financial security.