How Many Electrical Outlets Per Room
Are there many outlets you can have in a room, or can you ask for more depending on your needs?
The wiring in your home is covered under BS7671 and the building's regulations, whose primary function is to ensure the safety of the homeowners/ tenants. There is a prescribed number of outlets for each room, depending on the size of the property. Yes, you can ask for additional sockets with a new build.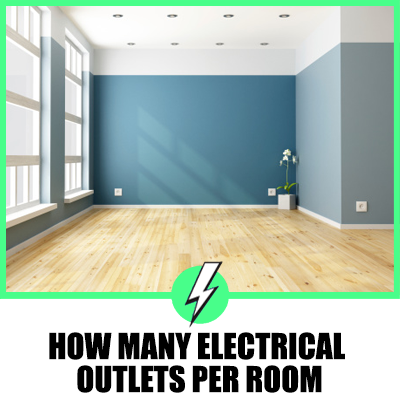 How many electrical outlets are required in a room?
There is a guideline from BS7671 and the building regulations to how many sockets can be fitted to each room.
The number is based on the potential load on the circuit and what is considered a safe practice for installing sockets around the home.
Outlets must be placed conveniently and near the tv aerial and telephone outlets, providing appliances such as the TVs, and DVD players for warranty purposes.
Rooms should be provided with the following 13 amp outlets:
Kitchen / Utility – 8 outlets
Dining Room – 4 outlets
Living or Family room – 8 outlets
Bedroom (main) – 6 outlets
Bedroom (other) – 4 outlets
Landing – 2 outlets
Hall – 2 outlets
Where are the sockets and switches located?
The height for sockets and switches is given in part P of the building regulations:
The height of the consumer unit switches is recommended between 1350 mm and 1450 mm.
How many sockets can you have in a kitchen UK?
Sockets can be fitted in the kitchen and utility area for your convenience. Of course, if the kitchen is extended and there are open ways in the consumer unit, additional sockets can be added on a separate circuit.
There are multiple guidelines for kitchen socket minimum distances because kitchens vary enormously in size, from grand to galley.
However, there is a need to be safe and provide an adequate distance from cooking hobs and power outlets.
If the socket is too close, it could become compromised with steam penetration or food splashes.
Depending on which guide you have referred to, the range from a cooking hob is between 100 mm to 300 mm.
Sockets close to a sink need to be 300 mm. It's wise to air on the side of caution in these areas and use maximums wherever possible.
How high should sockets be above the worktop?
150 mm. Kitchens are standards heights and widths unless custom made, but the average kitchen worktop is 910 mm high when measured from the floor level.
You should position the height of your power outlets at 150 mm measured from the worktop to the base of the socket. The combined measurements equal 1060 mm from the floor to the bottom of the socket.
How many sockets can you run off a socket?
You can spur off a socket and add 1 additional socket, which must be fused. If you add an FCU fused 13 amp, you can add as many as you wish.
With the FCU fuse, there is no possibility of overloading the circuit over the capacity of the fuse, so it is deemed acceptable and safe.
What is a fused FCU?
A fused connection unit, aka FCU. You can connect permanently installed appliances such as a fridge, freezer, and dishwasher to the FCU. It's ideal for retrofitting.
How much load can a double socket take?
20 amps, any more than 20 amps and the circuit breaker will trip.
How many outlets can you daisy chain?
2 outlets. Its recommended to not daisy chain power outlets around your home, as it increases the possibility of overloading the circuit, which can damage sensitive appliances and cause electrical accidents.
Is it safe to piggyback outlets?
No, using extension gang sockets can lead to potential hazards like overloading the circuit.
Its recommended to never plug in more than two appliances into socket gang extensions. Often the sockets are not rated for multiple appliances and can easily catch fire.
What happens if you plug too many things into an outlet?
You will eventually overload the circuit, which may cause the circuit breaker to trip, cutting electricity to that individual circuit. This is the best scenario.
Most likely, the plugs in a gang extension will become so hot it will burst into flames, with power still being connected. This very dangerous scenario can cause major house fires and electrocution.
In this case, you must turn off all the electricity in the house before attempting to battle the fire.
Did you know that around 24,000 fires each year that the fire brigade attended were electrical fires?
What are most electrical fires caused by?
Overloading circuits with cheap sockets gangs! Defective wiring, appliance failures and damaged electrical cords.
What are the current electrical regulations in the UK?
BS7671 is the 18th edition, the work bible for every UK electrician. It covers wiring installations and is the national standard across domestic dwellings, commercial properties and industrial properties to provide a safe standard.
What electrical work is under part P of the building regulations?
The building regulations ensure that certain electrical installations in a domestic setting must be carried out by an accredited, qualified, competent electrician who can sign off his own work.
This includes:
Circuit alteration or addition in a special location.
Installation of one or more new circuits.
Installation of a replacement consumer unit (fuse box).
Full Rewire.
Partial rewire.
New complete electrical installation (new build).
Installations and alterations in special locations, Kitchen, bathroom, garden.
Can you do your own part P installations?
No, it's a criminal offence, and you could be prosecuted for ignoring and disregarding the regulations. You could strip out all of the wirings and start again using a qualified accredited electrician to complete the work.
An electrician can only carry out notifiable electrical work for a good reason. It's for the homeowner's safety.