Extending A Virgin Media Cable
Do you need a technician from Virgin media to extend the cables? Can the extension cables be routed under floorboards next to electrical cables?
 If you want to extend your Virgin Media cable, you will need to contact Virgin Media, and they will send you the cable you need. Alternatively, you can use any coaxial cable with an F connector. Leave at least a six-inch gap between power cables and the Virgin Median coaxial cable to avoid interference with the signal.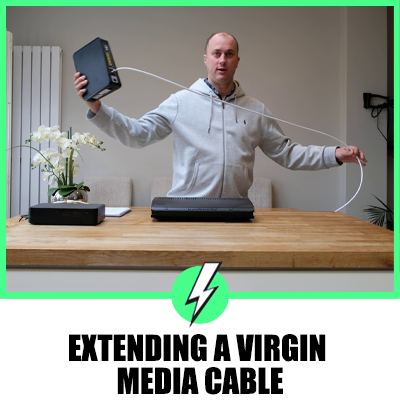 What type of cable does Virgin Media use?
SSL Coax. SSL coax is extremely versatile and can be used in several applications. If you want to extend the cable from your Virgin Media hub, you will find that SSL coax will do the perfect job.
The SSL coax is standardised RG6 7mm cable size to fit any F-female connector.
Do Virgin TV and broadband use the same cable?
No, Virgin media delivers its broadband service down the same cable as your broadband internet.
If you have the TiVo box with the TV package, you will find that the same cable fits the Virgin Media Hub.
Are Virgin and Sky cables the same?
No, Virgin Media has a stand-alone network that delivers broadband and TV content to your home depending on your signed package.
Sky is reliant on Openreach for their packages, which could make Sky susceptible to interruptions should BT ever wish to vary the contract between the companies.
Can Sky broadband use Virgin Media cable?
Yes. Sky Q can use the Virgin Media broadband service over wifi. It's not guaranteed it will work in your home. The only way to find out is to try and connect.
Do you need a splitter to watch Virgin TV in a different room?
When you first receive your package from Virgin Media, a splitter should be included with all of the equipment.
The splitter should be connected as in the below image.
What is a splitter Virgin Media?
It's a two-way digital splitter. Splitters are used, as they suggest, to spit the signal so you can connect to another cable and watch TV in a separate room.
The one supplied with your Virgin Media package is identical to the splitters used by Virgin Media engineers.
You can also find these on Amazon. There are a variety of splitters on offer that all work in the same way.
Can you move the Virgin router to another room?
No, it's part of the terms and conditions that you need a Virgin Media technician to move Virgin Media equipment.
However, it's not the end of the world to call a Virgin Media technician, it costs about £25, and you don't have the hassle of doing the job yourself.
How do I get a virgin wall socket?
You can't fit the Virgin Media wall socket yourself, but after receiving your equipment, you can ask the Virgin Media technician to fit the wall socket for you.
You can visit the website virginmedia.com and book a technician.
How deep should Virgin Media cables be?
1 to 6 inches. It does not seem feasible or plausible to bury a Virgin Media cable at a depth of only 1 inch.
But this is the Virgin Media specification, so if you have a cable running across your garden or close to a flower bed, you should be careful.
Can you run Virgin Media cables under floorboards?
Yes, you must keep the coax cable away from electrical cables to avoid interference with the signal. Despite the coax cable being shielded to prevent corruption of the signal, it's still possible if electric cables are laid next to the coax.
Keep a distance of at least 6 inches from electrical cables.
If the technician cannot do this for you, ask the technicians to leave enough cable and clips for you to make the installation yourself.
How do Virgin Media run a cable to the house?
Underground. The cable will be buried in your front garden at a shallow depth, so you need to remember the track of the cable when you are gardening.
Once at the house, the Virgin Media technician will run the cables wherever you want, and to any rooms you specify.
This includes TV and broadband plus phone.
However, this seems like a great service, and it is. The cables are likely to be clipped to skirting boards, and even if the colour is close, they can still be unsightly.
Does Virgin multiroom need cables?
Yes. This is a negative aspect of using Virgin Media for your TV. To use Virgin Media, you need to connect to each TV with a coax cable. Without this you can only watch live TV in one location.
If you don't have a wired connection in a different room, you are forced to watch catch up streaming services like Iplayer.
What are the pros and cons of Virgin Media broadband?
Pros
It's fast: even the entry-level package can provide enough entertainment for a large household.
Plenty of bundle options to choose from, from broadband, home phone, TV and mobile plans at a one-stop-shop, making the service competitive.
The equipment supplied by Virgin media is good quality and reliable. It includes intelligent wifi.
Available without signing up for a phone line plan.
30-day rolling contract, no long lock-in periods.
Fre repairs.
Cons
The speed may be good compared with other providers, but more affordable deals are to be found if you search.
No flexible bundles. You can't mix and match, which is not suitable for some families
Availability is limited compared to other service providers like Openreach Sky or Talk Talk.
How does Virgin Media fibre stack up?
Virgin Media fibre is a good service when compared to the competition. The internet connection speeds can be blisteringly fast without any lag.
Of course, the coaxial cable carries signals faster than copper, which makes a huge difference.