Who has the best job? Is it possible to compare the two trades side by side, or are they very different from each other?
It depends on your outlook on the trades. The carpenter and electrician both have long apprenticeships, and both trades can be hard physically. You need to be good at maths for both trades. In terms of earning potential and job security, the electrician is a clear leader.
What qualifications do you need for either trade?
Carpenter
To become a carpenter, you don't need any special skills or exam results from school. Being able to add and subtract is going to be needed.
If you are willing to learn and have the right attitude, you can become a carpenter.
If followed all the way through, the carpentry apprenticeship is roughly 4 years, and you will gain your level 3 NVQ diploma.
Electrician
To become an electrician, you will need a minimum of 5 GCSEs which two must be maths and English, with a grade not less than a C.
The course is 4 years, where you will gain an NVQ level 3 diploma.
With both trades, learning starts when you have finished your apprenticeship and start working as a tradesman.
Who has the better working environment?
Carpenter
Again it depends. Carpenters are found predominantly working on building sites; their work can be constructing roofs that see them out in the elements all day or be second fix fitting doors and skirting boards.
Electrician
The electrician has a much faster turnaround for their workload, and the environment is constantly changing. As an electrician, you could be working on rewiring a house for a week or more or be working in a garden fitting a pond pump.
How many hours a week do they work?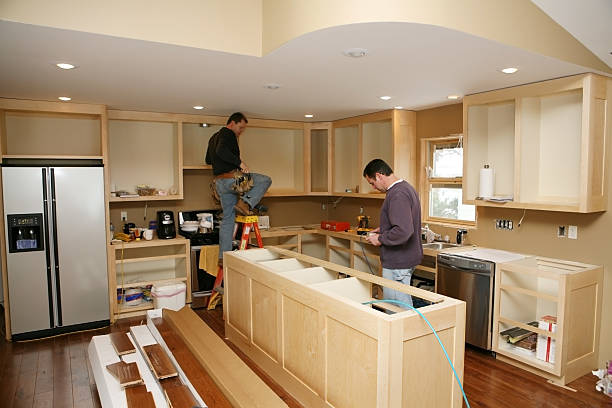 Carpenter
Carpenters work, on average, a 40 hour week, but they can work overtime, and if working on a construction site as a contractor, they may need to work weekends to keep to the scheduled deadlines.
With overtime, the carpenter can be working a 50 hour week, particularly through the summer months with the availability of longer working days.
Electrician
The electrician works on average 40 hours a week, self-employed electricians tend to work fewer hours, but they may have the disadvantage of working odd hours if they choose to offer an on-call service.
Again, it's not unusual for an electrician to be working a 50 hour week with overtime.
Which trade gets paid the most?
Carpenters
According to data for 2022, the average salary of a carpenter is £31,600 gross per year, which is +7% higher than the national average wage.
With overtime, the salary can rise to £52,000 gross per year, which places carpenters well above the national average salary for the UK.
The bad news is the apprentice carpenter can expect a starting salary of around £7,600 gross per year, which is considered low.
Electricians
Following the same source for salaries, electricians have an average salary of £32,100, which is +8% higher than the national average wage.
With overtime, the electrician can earn up to £55,000 gross per year, well above the Uk average.
Apprentices start at around £13,000 per year, making the training period more attractive.
Unlike carpenters, electricians can specialise in different areas. The table below shows the average earnings of a small section of different types of electricians.
| | | |
| --- | --- | --- |
| Electrician – Salary Differences | | |
| Job | Salary | Difference % |
| Industrial Electrician | £37K/year | 0.14 |
| Commercial Electrician | £35K/year | 0.09 |
| Self Employed Electrician | £34K/year | 0.07 |
| Offshore Electrician | £34K/year | 0.07 |
| Domestic Electrician | £33K/year | 0.03 |
Which trade is in demand?
During boom times, both are. Right now, the prospects for electricians are better than carpenters, Electricians are the highest demand trade in the UK, and there is a huge shortage, so rates for an electrician are set to increase.
Carpenters will always be needed, but with a lot of carpentry work coming to site prefabricated, the carpenter sees their skills slightly diminished.
Which trade has the best prospects
It depends on the individual? Both trades offer the same opportunity with a similar cost for entry into the market in terms of becoming self-employed.
Although the electrician has a higher cost for tools than the carpenter.
The electrician has more scope for work as DIY enthusiasts undertake many carpentry jobs, and carpentry is not a regulated trade which makes things difficult for the carpenter.
Whereas the electrical industry is highly regulated, and only electricians can undertake specific jobs in domestic environments.
Overall you would have to say the electrician has the better prospects as a self-employed individual.
Which trade is better for immigration?
There is a need for skilled tradespeople all over the world. If you are from the UK, you would likely immigrate to New Zealand or Australia as your first choice.
To enter either country as a tradesman, you will need to jump through some hoops and go through a rigorous checking program that will check your skills as a tradesperson.
But once you have met the requirements as a tradesman, you can work overseas if you wish.
Which is the hardest trade on the body?
Times have changed. To answer that question two decades ago, you would have said without hesitation it's the carpenter, but with so many power tools to make light work of even challenging tasks, it may come out as a 50/50 split.
Chippie or Spark?
It is a personal choice and doesn't come down to education or length of training because both are comparable.
If you like being outdoors and enjoy creating things from timber, you have to choose the chippie route.
If you like to work indoors and enjoy technical challenges and fault finding, then being a spark is your life.
Both trades have longevity and are in demand, and both trades earn comparable salaries.