Can Electrician Courses Be Fast-Tracked?
How long does it take to become an electrician when fast-tracked? Is fast-tracking considered to be good practice?
It depends on the amount of time you have available to complete the modules, but you can do everything within a year if you put in the effort and the hours. When you fast track, you still complete all the modules of a standard 4-year course, so it must be acceptable if you have the same qualifications at the end.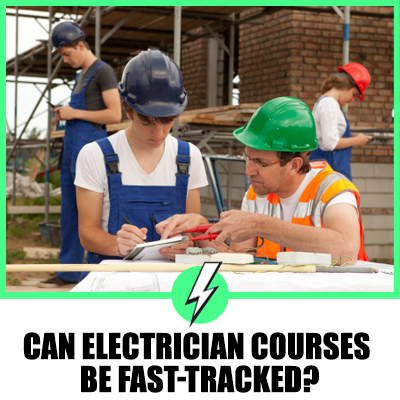 Are Fast Track courses any good?
Yes, when you enrol on a fast track course, you are being trained by qualified electricians who are motivated to teach you safely and effectively.
Just because you are on a fast track electricians course does not mean you will be skipping any modules. You will complete them all.
To gain an NVQ Level 3 Diploma, you will need to build a portfolio of electrical jobs you have completed and been signed off. It's impossible to cheat the system, and once completed, you have the knowledge.
Is a fast track electrician course for you?
If you want to have the UK recognised qualification in a shorter time than a 4-year apprenticeship, then yes, this course is for you.
The course is designed to accept individuals of all ages who do not have electrical experience and train those persons to a level where they have a recognised UK qualification.
The course is generally in three sections designed to motivate the student.
The 3 stages are:
Practical training onsite at a convenient venue for the student.
Theory to give the fundamentals of electricity such as ohm's law, this will be a classroom setting.
Study in the comfort of your own home. This is a great way to use online resources and brush up on grades if exams need to be retaken.
What qualifications will you receive through the course?
The course is modular, and you will be assessed as you progress. The first qualifications will be City & Guilds, later converted to industry recognised NVQ ( this takes just a few weeks to convert).
Your training will give you the much needed practical hands-on knowledge in a blended learning environment where practicals and theory are integrated logically.
The aim is to complete the training that culminates in an NVQ 3 Level Diploma.
Can you work and still do the fast track electricians course?
Yes, if you have daytime commitments, you can train at weekends, obviously, the fast track part of the course will be extended, but you are still learning a lucrative trade while you work.
You can approach electrical contractors to work alongside qualified electricians after you have a decent grounding and some electrical skills. You may be paid, and you may not be depending on the company.
However, practical experience in a real work situation is vital and should be grasped at any opportunity.
What does the domestic electrician course consist of?
The training is intense and requires your commitment. In return, your course will give you valuable knowledge.
The course syllabus comprises:
Understanding the building regulations for domestic installations.
How to install a domestic circuit and what different types of circuits are required.
How to earth a domestic installation and earth bonding in a domestic setting.
How to test single-phase circuits and how to inspect a circuit.
Part P installations and notifiable work.
Understanding and implementing 18th edition wiring regulations.
Pre-work surveys in domestic environments and how to conduct annual inspections.
Practical application of the first verification process.
Understanding and compliance with safety legislation and regulations.
As you can see, you will be busy during the course, and it will take some mental application from the student to get through the course work.
What happens if you fail an exam?
You will be able to retake the exam. Moreover, you will be able to ask for assistance from a qualified instructor who will be happy to guide you through the problems to pass the exam when you retake it.
What does the AM2 test consist of?
The AM2 is to prove you have some safe electrical skills and consists of: 
risk assessment and safe isolation
Composite installation
Inspection and testing
Fault diagnosis and correction
Do all electricians have an AM2 test?
No, the AM2 is targeted at new entrants into the industry to demonstrate their knowledge and practical skills regarding safety.
Qualified electricians do not have to take the AM2 test.
Can I become an electrician at 40?
Yes, the fast track program is a useful tool to accelerate your learning process and get you into paid electrician employment quickly.
Many employees prefer to recruit older people as they are deemed more reliable and less likely not to show up for work.
If your finances allow you to train at the age of 40, it is a good career choice to become an electrician, and you still have plenty of time to learn and earn.
How quickly can I become a qualified electrician in the UK?
If speed is the essence, you will be forced to take the domestic installer route. Can you be deemed a qualified domestic installer if you are motivated within a few weeks?
How do you train for a domestic diploma and AM2?
It's possible to run through the first 3 stages quickly if you are motivated, and after the initial training of around 6 months, you can gain some qualifications.
These qualifications will enable you to be suitable to work as an electrician's mate where you will be paid and can gain the valuable onsite training side of the course work.
Here are the initial steps required to become an electrician:
Domestic electrical skills (1 month)
Level 2 2365 Diploma – (3 months, 2 weeks on and 2 weeks off)
Level 3 2365 Diplomas – (3 months, 2 weeks on and 2 weeks off)
Level 2 2357 NVQ – (1-2 years, completed when employed)
Is taking a fast track electricians course the right course for you?