Blog
Best Insulated Electrician Screwdriver Sets: Review in 2021
Can you be classed as an electrician without a screwdriver set? They're the cornerstone of any tool bag and always come in handy for the job. You might just be missing that one screwdriver to get the job done, but it works out more economical to get a new set and happily retire your old screwdrivers as doorstops.
There's nothing worse than starting an electrical job and not having the right screwdriver I can mean a trip to the local B&Q or the rounding of the screw.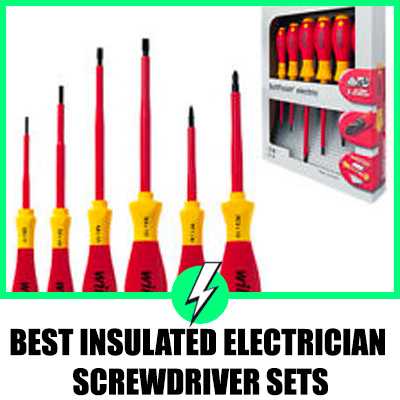 All the screwdriver sets listed in this review are insulated and up to standard for any electrical job. I will go through why insulated screwdrivers are import after showing you our choices.
Whether your an electrician or doing some DIY around the house, a set of high-quality insulated screwdrivers will help you with jobs like replacing an electrical outlet, repairing a damaged light switch, without the risk of receiving a painful shock.
We have tested and reviewed different screwdriver sets and found 3 of the best screwdriver sets for electricians. I don't see the point of listing ten different brands to add more words on the page when there's an excellent choice for everyone's budget within the different screwdriver sets listed here.
To double-check, we made the right choices of the best electricians screwdrivers. We look through the online customer reviews and feedback and cross-reference them with our personal findings.
Stanley 562573 FatMax (10 Pieces)
See the current price on Amazon – ££
10 piece screwdriver set that is individually tested to 10,000 volts and guaranteed to 1,000 volts. FatMax screwdriver (link to check price on Amazon) set by Stanly is a very well known brand and is an excellent choice for people wanting a fantastic set.
The FatMax screwdrivers have a medium-soft rubber handle this makes them comfortable and durable as possible. The handle is designed with a larger diameter that allows more torque when you have to drive wood screws.
The quality of the set is known from electricians using these screwdrivers for years without them breaking, one of the reasons for this is the handle is moulded directly to the bar providing an unbreakable bond. You will also find the heavy-duty plastic, covering the full length of the driver shielding you from live current.
Key Points We Like:
Heavy-duty plastic sheaths
Ideal for driving wood fasteners
Backed by a lifetime warranty
In this ten-piece set, you will get:
3 x Parallel : 2. 5mm x 50mm, 3. 5mm x 75mm, 5. 5 mm x 150mm.
3 x Phillips: PH0 x 75mm , PH1 x 100mm, PH2 x 125mm.
3 x Pozidriv: PZ0 x 75mm, PZ1 x 100mm, PZ2 x 125mm.
1 x Voltage Tester.
A few questions usually asked is the Stanley screwdriver set magnetic tipped and does it comes with a case.
The screwdrivers are not magnetic tipped; you can always magnetise them with a Makita accessory (Makita B-42422 Mag Boost- see on Amazon) that slides over the screwdriver shaft. And the set does come with a case.
Wiha VDE SoftFinish (6 Pieces)
See the current price on Amazon – £
A personal favourite of mine, I've used the Wiha screwdrivers (link to check the price on Amazon) a fair bit, and the SlimFix range lets you easily access deep-set screws because of the insulation on the bar is moulded to be 33% narrower than standard VDE screwdrivers.
This 6 piece set has a mixture of pozi and slitted heads so they can fit most jobs. The Wiha range is guaranteed safe when working on live equipment up to 1, 500 V DC/ 1, 000V AC. Each screwdriver is independently tested in a water bath at 10, 000 volts as required by IEC 60900: 2004 and awarded the GS symbol for tested safety. Vde certified.
Key Points We Like:
Ergonomic handles prevent blisters
Faster screwing
Tapered insulation
What you get:
1x SoftFinish (00820) , Slotted: 2,5 , Visible blade length: 75
1x SoftFinish (00822) , Slotted: 3,5 , Visible blade length: 100
1x SoftFinish (00824) , Slotted: 4,5 , Visible blade length: 125 *
1x SoftFinish (00826) , Slotted: 5,5 , Visible blade length: 125
1x SoftFinish slimFix (00878) , Pozidriv: PZ1 , Visible blade length: 80
1x SoftFinish (00879) , Pozidriv: PZ2 , Visible blade length: 100
Wiha screwdrivers are to a very high quality and are made in Germany. The SoftFinish handle design is patented and is made for ergonomic's meaning is incredibly comfortable in hand.
The drivers are marked on the end of the handle so you can quickly see what screwdriver you are grabbing out of your tool belt. The Wiha screwdrivers (link to check the price on Amazon) are non-magnetic like the other electrical screwdriver counterparts.
A slightly negative point to be made is that the slot tips are slim and relatively long, which can make them more prone to bending. This isn't a problem with electrical jobs. But if you decided to use them for sturdy screws or a demanding non-electrical scenario, they might not be the best fit for you.
Wera Kraftform PlusSerie 100″ (7 pieces)
See the current price on Amazon – ££
These Wera screwdrivers have the tapered insulation on to the tips making it much easier access into terminal blocks. The key point that stands out with the Wera screwdrivers is the handles ergonomic design. They make it much easier for driving in screws fast and comfortably.
Wera is a leading brand in this department for a lot of electricians and delivers to your highest expectations every day. I personally used these screwdrivers and found them very durable, long-lasting, and the grip to be next level (especially when you're finishing off and screwing everything up).
Wera screwdrivers (link to check price on Amazon) are insulated and tested tools as per IEC 60900; individual testing in a water bath at 10,000 volts to ensure safe working at the permitted voltage of 1,000 volts.
Key Points we like:
Ergonomic handles prevent blisters
Faster screwing
Length for those hard to reach screws
Tapered insulation
What you get:
1 x 160 iSS Slotted: 4 x 100mm.
2 x 160 iS Slotted: 3.5 x 100mm, 5.5 x 100mm.
2 x 162 iSS Phillips: PH1 x 80mm, PH2 x 100mm.
2 x 165 iSS Pozi/Slotted: #1 x 80mm, #2 x 100mm.
Overall, these are great screwdrivers, they are designed to reach this deep insulated electrical screws and are very comfortable to use. In the set, you get a mixture of philips and flat drivers for those weird hybrid screws that are found on electrical fittings. Like the other screwdrivers mentioned they are not magnetic. However, if you need them to be magnetic, Makita sells a magnet (Makita B-42422 Mag Boost- see on Amazon) that slides over the screwdriver shaft.
Wera Kraftform Comfort VDE (7 Pieces)
See the current price on Amazon – £
These Wera screwdrivers are an excellent option for anyone's budget. You get 7 different drivers to get your electrical work done. They have a similar design to the other Wera drivers mentioned but have a slightly different feel. The quality is still high but a little lower than the standard kraftform set, which is understandable because they are cheaper.
Each driver is individually tested for dielectric strength under a 10,000V load, to guarantee safe working at 1,000V. So you can be rest assured just because they are cheaper doesn't mean your more prone to an electric shock.
Key Points we like:
What you get:
5 x flat head
2 x phillps head
1x voltage tester
The Kraftform handle is designed for extreme comfort during use and improved torque transfer for screwing. The hexagonal anti-roll feature prevents those unwanted screwdrivers rolling off your ladder while working, which is a nice touch.
The end of the Wera drivers (check price on Amazon) has a symbol and tip size marked so you can identify them when there in your belt. As with the other electrician's screwdriver sets, these are not magnetic but can be made magnetic if you wanted them to be.
Insulated Versus Non-Insulated Screwdrivers
Everyone is familiar with screwdrivers and probably has a set for those jobs around the house. The insulated screwdriver is for electricians or electrical DIY jobs; this is because of the added protection from voltage. Electricians screwdrivers tend to be extra tough and have a thick layer of plastic to protect them, which is non-conductive.
Yes, it's visibly apparent that an insulated screwdriver is made to protect the user from an electric shock or an arc flash, because of the less exposed metal than you see in a regular screwdriver. But many screwdrivers have plastic or rubber handle, making people wonder why they need an insulated screwdriver when it seems that a standard screwdriver offers protection.
To answer that question, the handle and bar of an electrically insulated screwdriver are covered with rubber and plastic, which enhances their dielectric features. And most importantly the screwdrivers undergo testing to withstand up to 1,000 volts and are made sure they are to higher standards than regular screwdrivers.
Electricians screwdrivers often look different not only because of the extra protection but because of the colours. You will find most to have a red and yellow plastic coating, so they are visually detected to be safe to use.
Electrical tape is not a substitute
This is a common question that needs to be addressed, wrapping electrical tape around a regular screwdriver doesn't offer the same protection as an electrically insulated screwdriver.
A lot of people think they have tape and screwdrivers at home so they can save some money from buying an insulated set of screwdrivers. This isn't the case, and the consequence of this thought can leave people open to preventable hazards.
An ending note
It's also worth mentioning that even after investing in your safety with properly insulated tools, you should avoid taking needless gambles working on a live circuit, particularly if you aren't an electrician.