What Happens If You Become Pregnant As An Electrician
Will you be fired if you are working as an electrician and become pregnant? Would a female tradesperson be frowned upon while on maternity leave?
You are protected in the UK under employment laws covering pregnancy while working, regardless of your trade. If you have worked for the employer for 26 weeks before the end of the 15th week before the baby is due, you are covered by maternity leave. No one would look down on a colleague for being pregnant or taking maternity leave.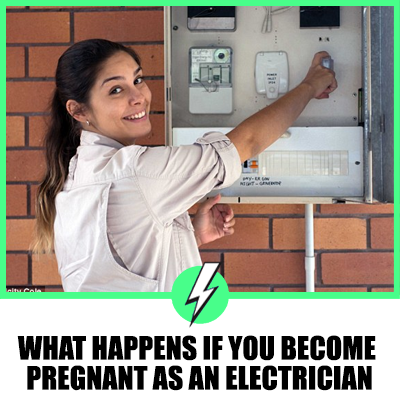 Can apprentices get maternity pay?
Yes. All workers are protected against discrimination, and as such, you will be entitled to maternity pay from your employer.
There is one caveat, you will need to be employed for 26 weeks before the end of the 15 weeks that your baby is due.
Being an apprentice does not affect your rights, providing you meet the criteria.
What happens if you are near the end of your NVQ level 3 Diploma and you are pregnant?
It depends on how far along in your pregnancy you are. If you are in the final stage, ask if you can complete the academic modules and leave you with the evidence-based work.
You can ask your mentor or employer to expedite the evidence-based tasks so you can qualify before going on leave.
However, you can take a break if you are in the final year. You may have to start the year again when you return to work so you can qualify.
Keep in mind the employer has paid for your training for the previous 3 years. They have an investment in you and will wish for you to complete your course and start generating income for the business.
Is there a danger of working with electricity while being pregnant?
Of course, the danger of electric shock is real, and it could affect your pregnancy, so extra care needs to be taken when working on live circuits.
There was a case back in 2008 where a pregnant female was working in a substation next to 27kV. Despite no evidence, the female was removed and placed in a different site as the employer and unions thought it would be safer for the child.
Can you return to the same job after maternity leave?
There is ordinary maternity leave that is 26 weeks; provided you have given your employer the correct notice period, you can return to work at any time during the 26 weeks and resume your position.
Additional maternity leave starts the day after the 26 weeks, and you can still return to your old position if it's reasonable.
Now, if you are an apprentice electrician, it will be tough for you to catch up with the missed work of 26 weeks, let alone additional leave.
The key is to communicate with your employer and ask if you can start the training year again when you return from maternity leave.
Can you be fired for getting pregnant, UK?
It's a sticky question! The answer is yes, but if the dismissal was unfair and outside the law, you will have a claim for unfair dismissal through the courts.
There are many protections against discrimination, and being fired while pregnant or on maternity leave would undoubtedly come under these protections.
While the law is complicated, it's on your side, and a wise employer will either keep you on or try to make an amicable settlement out of court, which you do not have to accept.
If your employer fires you because he suspects you are pregnant, but you have not informed him, you will have to prove your suspicions.
Again the law is on your side, and the courts will take a dim view of the employer.
How long can a pregnant electrician work?
Many women work until the day of birth! But being an electrician can be physically challenging, so you may want to take on some lighter duties if possible.
Climbing ladders and being exposed to rodents and bird dropping is a big no. Work until you feel the time has come to take maternity leave.
You could approach your employer and request lighter duties if available or request an additional apprentice to take up some of the slack as you slow down.
Are female electricians in demand?
Yes, there is a shortage of electricians in the country, and the answer could be to recruit more female electricians.
Only 1% of electricians in the UK are female. This is a staggering statistic and what's impressive is the public overwhelmingly would like to see more female electricians.
Surveys say that 29% of male homeowners would support a female electrician working in their home and 41% of females say they would feel safer having a female electrician in their home.
Why are there not more female electricians?
The electrician has long been gender-specific and considered the exclusive domain of the male! However, the truth is females are leaving school with better grades than their male counterparts, making an electrician career more attractive.
Although the tradesman industry has always been notorious for laddish behaviour, times have changed, and equality is at the forefront of the industry today.
How do you become a female electrician?
There are two main routes; school leavers often take the apprenticeship route. You need to apply to as many electrical contractors in your area as possible for an apprenticeship.
Depending on your speciality, you can also apply to commercial and industrial establishments for apprenticeships.
The other route is more geared for the older student who has maybe decided they want a trade rather than working in a dead-end job.
Apply to a trade centre that specialises in training electricians, and there are lots across the country.
There are often grants for these courses, and it could be free, but contact the training centre admin and check.